National U, SM Group of Companies renew partnership
National University and the SM Investments Corporation (SMIC) celebrated the success of the NU-SM Partnership through a social gathering held at the NU MOA Campus, Tuesday, January 24.
Key executives and representatives from the SM Group and affiliates graced the event as Mr. Steven Tan, president of the Shopping Center Management Corp., thanked National University for being hand-in-hand with the SM Group in fulfilling 'Tatang' — the late Henry Sy, Sr.'s dream of improving the nation by affecting the lives of the next generation.
Throughout the NU-SM partnership, SM provided a platform for NU graduates and interns to be recruited and absorbed across the SM workforce. As they take their brotherhood to a new level, they aim to strengthen bonds and provide the NU students with more opportunities to showcase their skills and ideas.
"Let us make NU the home of future nation builders and SM is always open to be their next home, helping them realize their dreams and aspirations for a better future." He expressed.
Meanwhile, NU President Renato Carlos Ermita, Jr., also shared how the partnership helped NU to grow, opening more campuses and giving quality and accessible education for the future generation.
Both parties look forward to continuing the collaboration in making a difference in the lives of its students and the community.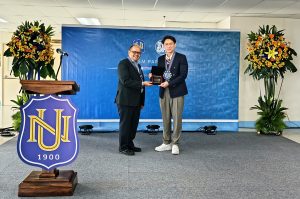 (In Photo: National University President & CEO, Dr. Renato Carlos Ermita Jr. and SM Supermalls President, Mr. Steven Tan)