National U honours athletes in NU Athletes Recognition 2017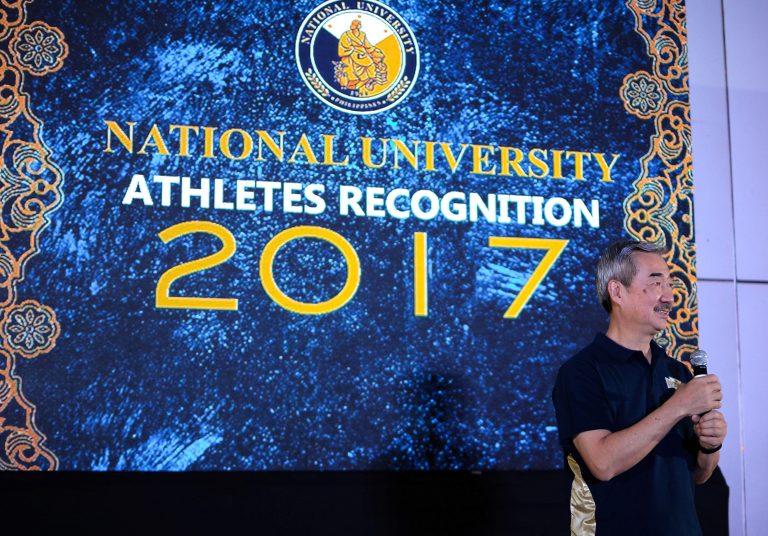 National University recognized the athletes who performed well and brought championship titles to the school in the recently concluded UAAP Season 79.
National U Chairman of the Board Hans Sy and President Teddy Ocampo led the celebration at One Esplanade in Pasay City last August 5.
Invited to grace the event are the NU teams, players and coaches who bannered the name of the university last UAAP season.
The teams who won second and first runner-up were given certificates of recognition while the champion teams received the same plus a limited edition National U pin.
Acknowledged for their second runner-up finish are the women's softball team and the men's table tennis team. First runner-up finishers are the men's taekwondo, juniors basketball, men's chess and men's volleyball squad.
National U currently holds 9 championship titles in the UAAP which came from the women's taekwondo, juniors table tennis, juniors volleyball team, 3-peat achievers women's basketball, men's badminton squad and girls' volleyball team and 4-peat winners women's lawn tennis team and NU pepsquad.
In his speech, Chairman of the Board Hans Sy said the event was the management's way of acknowledging all the efforts and hard work the teams had given in their respective sports.
"Win or lose, we'd like to give you a heartfelt thank you. I'd also like everybody to know that win or lose we are one big National University family." Sy said.
NU Sports Director Chito Loyzaga asserted that they are hoping that the event will inspire the teams to strive harder this upcoming UAAP Season 80.
NU teams will begin their new quest to the championship crowns this coming Season 80 which is set to open on September 9.