National U marks new milestone; celebrates 117th founding anniversary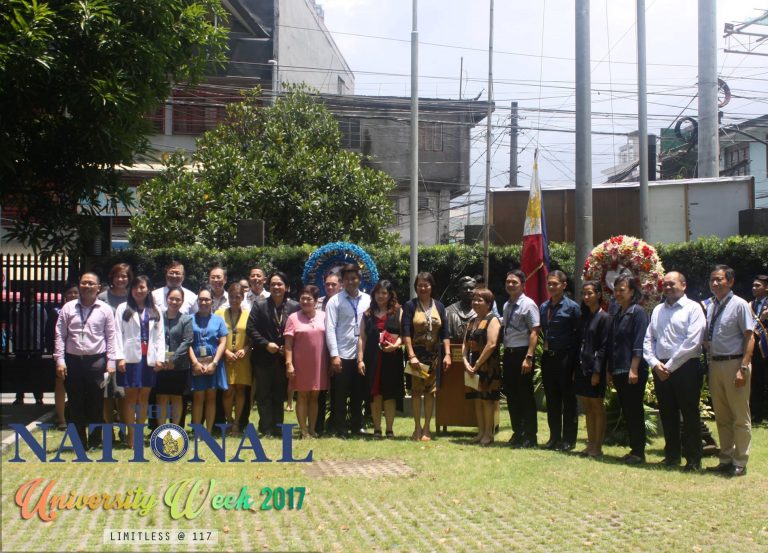 The National University successfully celebrated its 117th founding anniversary from July 31 to August 5 at the National U premises.
Dubbed as "Limitless @ 117; Defying Limits, Expanding Horizons", the one-week event showcased and acknowledged the talents of the students, professors and the employees of the university.
The week-long celebration kicked-off last July 31 with the Arch Parade which was followed by the debate eliminations, opening of the exhibits to launch the University Week, Bulldogs Hunt in the afternoon and Battle of the Bands in the evening.
The NU Service and OVAL Awards 2017 held last August 1 at NU Social Hall served as one of the highlights of the anniversary celebration.
The university recognized the employees who have rendered years of dedicated service for the school. Five years' service awardees include Cindie Almeda (CEAS), Engr. Allan Alzona (CEng), Ria Cristina Argonza (CEAS), Jan Felix Ayonayon (CEng), Walter Jerom Cabale (CAH), Sergio Canaria (Campus Mngmt), Santa Reina Cruz (Accounting), Godhiel De Pedro (CAH), Arnel Diego (CEAS), Renato Garduque (Security Office), Joel Gonzales (Registrar), Diana Lumogdang (Learning Resource Center), Ma. Lourdes Olegario (CEAS), Engr. Jonrey Ranada (CEng), Arlene Trillanes (QMO) and Ma. Honey Belle Vicencio (Guidance Services).
College of Allied Health Dean Dr. Leonora Concepcion was acknowledged as the lone ten years' service awardee, while fifteen years in service are Dr. Modesta Adolfo of Health Services and Helinor Medina from CBA. Twenty years in service is Ma. Teresa Montemayor (Registrar), twenty five years in service is Rosauro Ducay of Campus Management and thirty years' service awardees are Gerardo Aducal (Physical Facilities) and Robert Lamata (CDent). Elisa Manuel of Purchasing Office was recognized for her thirty five years' of service in the university.
Aside from the service awards, the management also chose the OVAL awardees or the employees who embody the outstanding values of the school. Elisa Manuel was awarded for "Integrity", "Compassion" award was given to Engr. Ambrosio Enriquez, while "Industry" award was given to Yehlen Abenoja and Sylvia Longno was recognized for "Resilience".
In his speech, President Teddy Ocampo thanked all the employees and students for their concern and continued support for the school. He also shared the university's developments, from National U Sports Academy in Laguna to the planned expansion in Fairview Quezon City and Baliuag Bulacan.