Former NU Pep Squad standout passes CPA board exam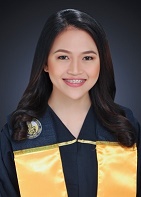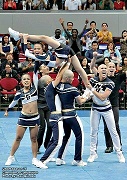 Former National U Pep Squad standout Claire Cristobal just proved to us that she is not just an ordinary student-athlete.
In the May 2018 Certified Public Accountant board exam, the 21-year old Cristobal was among the 11 passers from National University, that was also able to record 33.33% passing rate that is higher than the national passing rate of 28.92%.
Cristobal, who first made a name for her body bending moves, shared that curiosity played a role in discovering her abilities when she was still in high school.
"During that time, may mga classmates ako na 'pag merong sinalihan na sport, excused ka sa PE, so parang sabi ko gusto ko din. So nag-try-out ako sa gymnastics, then ayun, naging passion ko na yung paglalaro, and by God's grace nabigyan ako ng chance na makasali sa Palarong Pambansa, dun na ako na-recruit ng NU." Cristobal recalled.
Claire admitted that she was hesitant to join the NU Pep Squad because she wanted to focus on her studies to achieve her dream of becoming a CPA.
"Matagal ko syang pinag-isipan, I asked my mother if it is okay and she said I should try. So, I went to the try-outs then when I passed they gave me a full scholarship, and that time, I was motivated that I will not waste this opportunity given to me."
Being a student-athlete though was not a walk in the park as she tried to balance her duties as an NU pep squad member and later team captain and an Accountancy student.
Cristobal also recalled that even if she is tired from training and studying she would still wash her laundry so she can save up.
"One of the struggles that time was time management and at the same time focus. Physically, pagod ka, then mentally, drained ka, ang pasok ko sa umaga, ang training sa gabi. But every year as I progressed here in NU, iniisip ko na hindi, hindi ko pwedeng idahilan na pagod ako, I need to balance my time for training and studying."
And while some will say that everything will be "all ease and bliss after graduation", it was a different story for Claire who decided to take the May 2018 CPA board exam after graduating last November 2017.
Her father was in and out of the hospital during her review period prompting her to stay with her family to take care of her father.
"Struggle yung first half ng review, I had to help my mom in assisting my father in the hospital. But what kept me confident that time was my faith in God. I was telling myself that I made it this far, if it's not for His plan, I wouldn't be here, I won't make it without Him."
It took major dedication, focus and ability to be able to push through during the most difficult times, and even if she was not sure where her steps would take her, the lessons she learned from being a student-athlete remained on her mind.
"Before, mababaw lang ako mangarap, but when I became a student-athlete, I learned that when you want to achieve something, always aim for the best, always aim for the highest. Sa buhay, 'pag wala ka nang ineexpect na maganda, mawawalan ka ng gana, wag mo limitahan yung kaya mo, that is what the NU Pep Squad taught me."
Hard work and prayers worked wonders for Cristobal when she received the news that she was one of the 2,843 passers in the recent CPA board exams.
"I am very grateful for the opportunity that National University has given me. I want to give back to National U because it helped me and molded me to who I am today. Sa laki ng help ng National University sa amin, I just hope my co-student-athletes will realize that we should always gear towards being a champion outside and inside the court."
With this recent feat, Cristobal hopes to inspire not only those who are taking up Accountancy but also her co-student-athletes.
"Just like what I posted in my social media account, your perception determines your performance. Kung paano mo tinitingnan ang buhay, ganun ang magiging galaw mo. Let us always look at the brighter side. Also, always give yourself a reason for achieving something, not just for yourself but for those who believe in you."
We may know her as the pep squad's team captain, the elastic and jelly girl but now meet her new title; Claire Cristobal, CPA.