MEET: National U alumna who "teaches for the Philippines"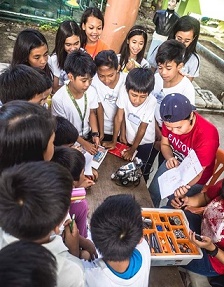 To serve the country…this was one of the things in mind of National U alumna Maria Elaine Joy P. Quidato when she graduated from the university in 2013. But even before she was able to do her duty as an educator in the Philippines, she had to go through numerous challenges.
She, together with her family, moved to Manila in 2003 when she was still in grade school. It was quite hard for her to adjust moving from the quiet city of Victoria in Negros Occidental to the bustling streets of Quezon City.
But this did not stop her in aiming for her dreams. She finished elementary in Batino Elementary School and took secondary level in Balara High School.
"Bago sa akin yung sistema ng private school, but then one of my cousins asked me to drop by National U to check if BS Biology was offered, because I really wanted to be a doctor. Unfortunately it was not offered. But good thing, I discovered that they were giving discounts to BSEd enrolees if you are an honour student." Quidato recalled.
Wanting to help her family, Quidato decided to take up Bachelor of Science in Secondary Education major in English in National U. The 23-year old alumna also shared that she worked hard to earn and keep her scholarships so as to continue studying in National U.
She finished the four-year course on time while also graduating with honours as Magna Cum Laude.
Quidato recalled that while waiting for the results of the Licensure Examination for Teachers, she juggled TESDA NC2 trainings, tutorial services while also volunteering in Save the Children Philippines to gain experiences in the field.
It was in January 2016 when she discovered Teach for the Philippines.
TFP, according to its website, is a for-purpose, non-stock, non-profit organization that works to provide all Filipino children with access to relevant and excellent education.
"What attracted me the most was the teacher stories and chronicles, and that made me think na, I want that, I want to experience what they experienced in public schools. Also, one doesn't need to be an education graduate and doesn't need to be a LET passer, as long as you want to teach and you are willing to be assigned to their placement schools."
TFP enlists some of the country's most promising young leaders to teach for two years in public schools throughout the Philippines. Driven by the vision of TFP to give Filipino children access to inclusive, excellent, and relevant education, Quidato worked with the organization, trained for two months, became a teacher-fellow and taught for two years in a placement school in Biñan Laguna.
Quidato shared that during her fellowships or trainings for Teach for the Philippines, she can never forget the core values National U had taught her.
"I think there is where resilience plays its part. Kinailangan kong maging matatag in each part of [my] life kasi hindi ka na ihehele ng university and professors mo, you stand on your own, whatever you learned in the university, it's much different in the real world, you have to stand with the values that you have, you carry it with you. After all the fellowships, nasabi ko sa sarili ko na kinaya ko pala."
Now that Quidato is done with her two-year stint as teacher-fellow for TFP, she is now about to serve as an "ambassador" and will be assigned for a year in Siargao to help and assist the local government unit of Del Carmen. Quidato shared that she is excited in this new journey wherein she can be able to help not just as a teacher and ambassador but also as a Nationalian.
"I can't change the whole Philippines, but I think I can help in my own little steps, through education. It may be hard, but it is satisfying to do something for the right people and purpose." Quidato ended.