NU-College of Architecture representatives meet with Vice President Leni Robredo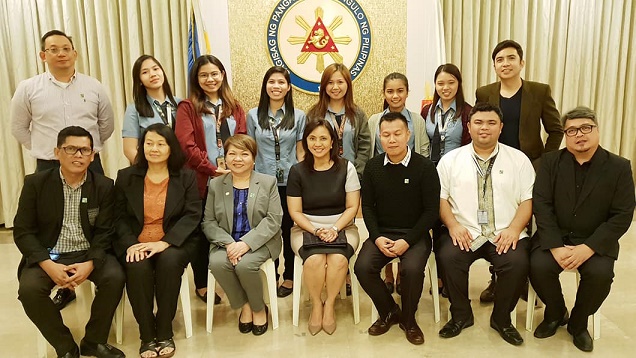 The National University-College of Architecture representatives paid a courtesy visit to Vice President Leni Robredo last Monday, July 9, 2018 in Quezon City.
NUCoA, led by Dean Architect Chona E. Ponce and some members of the faculty and Architecture Student Council (ASC), discussed with VP Robredo the college's projects for a possible collaboration with Office of the Vice President (OVP). These projects include the design of mental health care facilities, 25-bed dormitories in Siayan Zamboanga del Norte, and master planning of communities in remote areas in the Philippines which are part of the flagship programs of Angat Buhay of the OVP. Angat Buhay, OVP's anti-poverty organization, have the following thrusts: food security and nutrition, universal health care, rural development, public education, women empowerment, and housing and resettlement. Since its inception in October 2016, Angat Buhay has already extended assistance and programs to over 135,000 families in almost 200 cities and municipalities all over the country.
NU-COA also shared to the Vice President the college's community extension services like Brigada Eskwela and feeding program among others.
A plaque of appreciation and a token were personally handed to the Vice President after the meeting. It can be recalled that the Vice President sent a video message for Haligi III last February 23, 2018 at the SMX Convention Center.