NU-College of Engineering sets up new industry-academe linkage with PICQS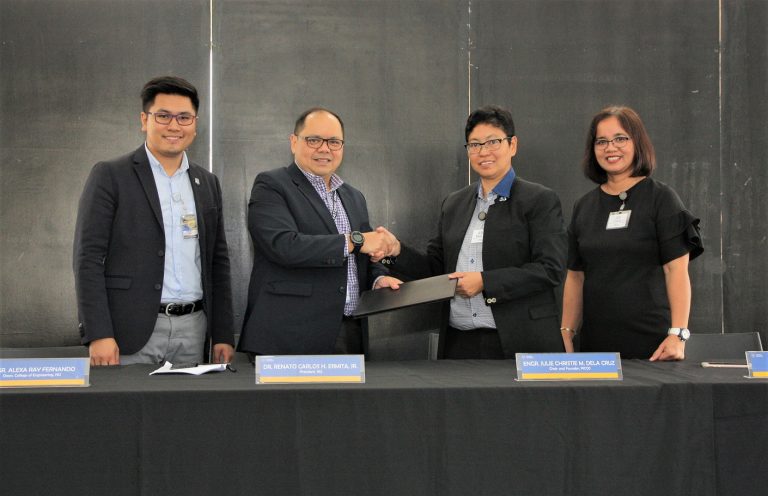 National University-College of Engineering continues to work on improving its efficiency after setting up ties with the Philippine Institute of Certified Quantity Surveyors (PICQS) just this month. National U representatives headed by President Renato Carlos H. Ermita Jr. and College of Engineering Dean Alexa Ray Fernando hosted the signing of the memorandum of agreement with PICQS, represented by chair and founder, Engr. Julie Christie M. De La Cruz and national board president, Engr. Jessica Gandia last July 11, 2018 at the 12th floor, NU Annex Building.
The two institutions formalized the partnership wherein PICQS will help and assist National U in developing a new curriculum for the Civil Engineering program.
"The design of our new engineering curricula puts importance in providing our students an appreciation of the broad but of diverse specializations in their chosen engineering field. We want our students to be able to choose and start their career path by building their credentials while they are still in the University. I believe that PICQS is a great help to our students who are aspiring to become full-fledged Quantity Surveyors, or Construction Managers in general." Dean Fernando stated.
Dean Fernando also added that one of the main purposes of the partnership is to initiate another industry-academe linkage.
"Our ultimate goal is to close the gap between the industry-desired skills and the skills set of our graduates. Whether they want to work for an engineering company or put up their own engineering start-ups, we want to make sure that they are prepared for it."
On the other hand, PICQS chair and founder Engr. Dela Cruz also expressed their excitement in this new endeavour.
"In a world of intense global competition and accelerating digital change, practitioners like us and universities like NU need to work in tandem to be at the forefront of innovation and knowledge. Through this industry partnership, I am certain that PICQS and NU would become a powerful engine for economic growth.", Engr. Dela Cruz said.
The partnership between the two institutions is set to last until 2019.