National U holds turnover ceremony for new university president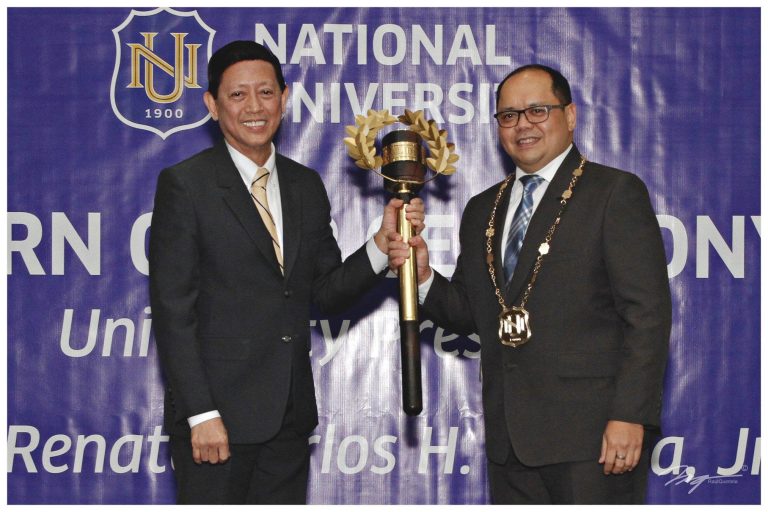 National University held the historic turnover ceremony for the new university president last May 22, 2018 at the SMX Convention Center in Pasay City.
The ceremony formally proclaimed EVP and COO Dr. Renato Carlos H. Ermita Jr. as the new and 8th president of the 117-year old institution.
In the ceremony, outgoing President Teodoro J. Ocampo, who served as the university's top official since 2003, formally handed over the NU medallion and mace which symbolize the leadership, duties and responsibilities of the highest university official.
In his acceptance speech, newly-proclaimed president Ermita thanked the NU community who helped him in the last ten years of service to the school and also encouraged them to work with him in bringing National U to new heights.
"The past achievements would have not been possible if not for the dedication, hard work and cooperation of all of you. I know that a lot of you have gone beyond your comfort zones, but the important thing is that you were all willing to take up the challenge for the betterment of this institution. It is because of your readiness that we have the confidence to move forward to a nationwide presence of NU. Our team is ready for the future."
He also acknowledged the huge role that outgoing President Ocampo played for the university.
"President Teddy and I, from 2008 often spoke about three pillars which were typical in the turnaround of NU; and these are infrastructure, sports and academics. Looking back at the past 10 years I believe that the true contribution of President Teddy was rebuilding the foundation and restoring the stability in National University. Most important of all, President Teddy brought back the pride of National University."
Meanwhile, Chairman of the Board Mr. Hans T. Sy in his closing speech, assured the new leadership of their never-ending support.
"For this challenge, he can count on my and the board's all out support. His trials will be our trials, his success will be our success as well."
Mr. Sy also announced that outgoing president Ocampo will be promoted as the Vice Chairman of NU Board of Directors. EVP Ermita is set to start as the university president on June 1.