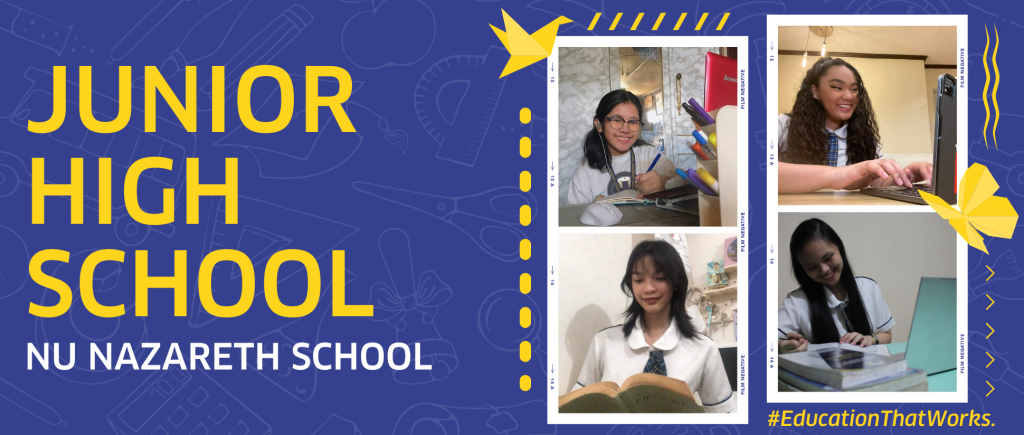 What's unique about our Junior High School Program?
The Junior High School Program provides a holistic education that balances the learners' cognitive, physical, social, emotional, and spiritual development in a Christian and rewarding work environment.
The program offers an array of learning experiences that develops scientifically and technologically minded, value-laden and communitarian learners who will apply communication skills in expressing one's stand on various social and contemporary issues and will show respect for the ideas and opinions of others. One of the unique features of our JHS program is the subject integrations especially in assigning performance tasks and the TLE classes where students get to choose their preferred track.
NU Nazareth School allows JHS students to demonstrate their skills innovatively through various activities and showcasing their talents that would enable them to appreciate the value of oneself.
Learning Delivery Mode
NUNS will adopt a Blended Learning instruction delivery for SY2022-2023 which is a combination of Remote Learning and Face-to-Face Classes.
Requirements for Junior High School
Form 138 ( Report Card)
Certificate of Good Moral Character
Certificate of Completion (Grade 6)
Birth Certificate (Photocopy, original PSA copy needed for validation)
Baptismal Certificate (Photocopy, original copy needed for validation)
Additional Requirement for transferees: