NU, AFP sign educational benefit partnership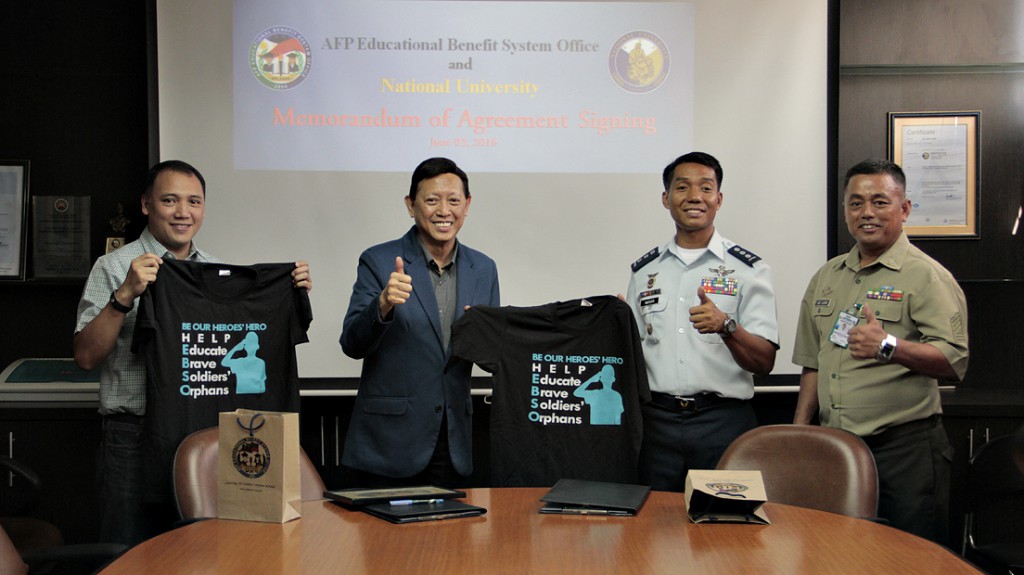 True to its mission of providing relevant, innovative and accessible quality education, the National University recently inked an agreement with the Armed Forces of the Philippines for an educational benefit partnership program.
The AFP, thru its Educational Benefit System Office, is tasked to look for schools and universities all over the Philippines that can provide free education to sons and daughters of soldiers' killed in battle.
National University is one of the universities in country chosen by AFP to be part of this program.
National University External Affairs Director Mr. Rolando T. Averilla expressed delight in AFP's decision to tap the university in this program.
"We are happy to be part of the AFP-EBSO community of schools, we acknowledge the dedication and service to the country of these soldiers who were killed in action and we are proud to be one of the academic institutions who will help their family, particularly their children…to put them to school and give them scholarships." Director Averilla said.
In the signed agreement, National U will grant one (1) full scholarship to one son/daughter of a soldier killed-in-action.
Aside from this, NU will also give unlimited slots to sons and daughters of active soldiers where they can enjoy a 25% discount on their tuition fee.
AFP-EBSO General Manager Lt. Colonel Genaro Menor expressed gratitude to National University for granting and allowing this partnership.
"We are very much grateful because National University is partnering with us para dito sa advocacy to help the families that the soldiers left behind." Lt. Col. Menor stated.
According to AFP, welfare benefit programs for military personnel were created to enhance and maintain at a high level their morale to sustain their efficiency while performing their tasks.
The National U and AFP-EBSO partnership will last for five years.