National U shines in two national engineering quiz bees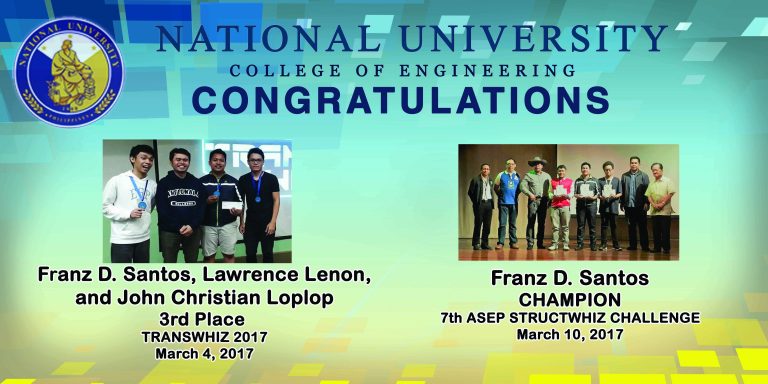 The National University College of Engineering proved to be dominant once again, after topping in two national engineering competitions held just this month.
National U's 5th year CE stude Franz D. Santos bested 60 teams to bring home the top prize in the 7th ASEP StructWhiz Challenge held at De La Salle University last March 10, 2017.
The competition which was organized by the Association of Structural Engineers of the Philippines (ASEP) is a quiz bee for civil engineering students that tackled areas such as Structural Engineering starting from Engineering Mechanics, Structural Theory and Design and provisions from the National Structural Code of the Philippines.
According to COE Dean Alexa Ray Fernando, this win is a huge one for the university.
"After getting the championship in this competition, I can really say that our civil engineering program is really good because structural engineering is one of the main fields of civil engineering and we bested more than 50 schools, this is nationwide and all of the top universities with civil engineering programs joined here." Dean Fernando said.
On the other hand, last March 4, National U also placed in the top three of TransWhiz 2017 which was held at Mapua Institute of Technology.
Hosted by MIT, Eastern Asia Society for Transportation Studies and Transportation Science Society of the Philippines, TransWhiz 2017 covered the different areas of Transportation Engineering like surveying, highway engineering, traffic and transportation engineering, traffic impact assessment, pavement engineering, railroad engineering and ports, harbour and airport engineering.
The NU team composed of Franz D. Santos, 4th year CE studes Laurence Lenon and John Christian Loplop got the third place in the competition to prevail over nine other teams.
Santos, who joined both competitions, shared his experience from these quiz shows.
"I think the most significant learning I have gained is developing sportsmanship and learning to interact with quizzers from other schools even in the midst of the battle. Also, I think that these competitions taught me to be humble at all times and to always be thankful whatever the results may be." Santos shared.
Santos who placed first in StructWhiz took home P20,000 as cash prize, one National Structural Code of the Philippines (NSCP) 2015 book, free review and refresher at Review Innovations and a trophy while at TransWhiz 2017, the NU team received medals, cash prize and a plaque of recognition for the university.