National U-College of Engineering inks ties with DENSO Techno Philippines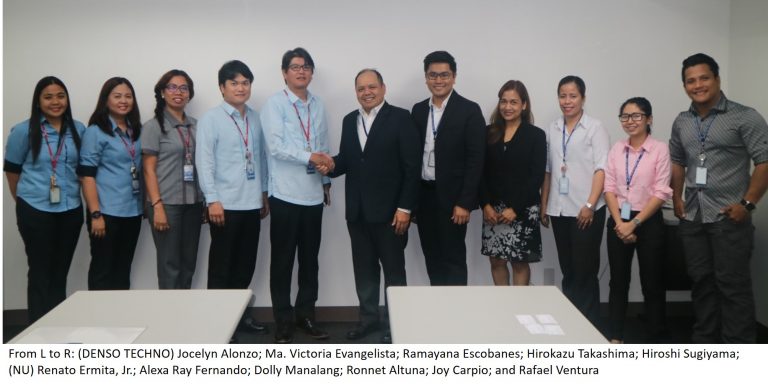 To fully equip College of Engineering's faculty members and students, National U formally inked ties with DENSO Techno Philippines, last March 20, 2017 at the DENSO office in Makati City.

According to Engineering Dean Alexa Ray Fernando, the partnership, which is good for one year, is due to the intention of making National U students and graduates qualified to take positions in the field of electronics and computer engineering.

DENSO TECHNO, according to the company website, is part of DENSO Group of Companies, a Japanese-owned company that is chiefly responsible for handling the process from specification development to mass production for the development and design of mass-produced products for customers. This involves a wide range of technical fields covering software design, electronic circuit design, and equipment design. They are also the leaders in production of electronic devices, in the side of embedded systems and C programming.

"The nature of partnership is faculty-industry immersion, possible recruitment for our graduates, curriculum revision and some other activities like conducting seminars and workshops." Dean Fernando said.

One of the major activities is the April to May 2017 faculty industry immersion wherein Electronics department professor Engineer Joy Carpio and Computer department professor Engineer Rafael Ventura qualified as immersionists. "The main purpose of their immersion is to learn (from DENSO) what current technology is needed in the industry and to benchmark their engineering practices. Hopefully, they will be able to apply these to our programs." Fernando added.

Fernando also shared that DENSO is partnering with different universities, and they chose to associate with NU this year because they were impressed by a number of NU alumni working for them.

The MOA signing was attended by the top management both from DENSO and National U.