Congratulations to this year's Service Awardees(2015)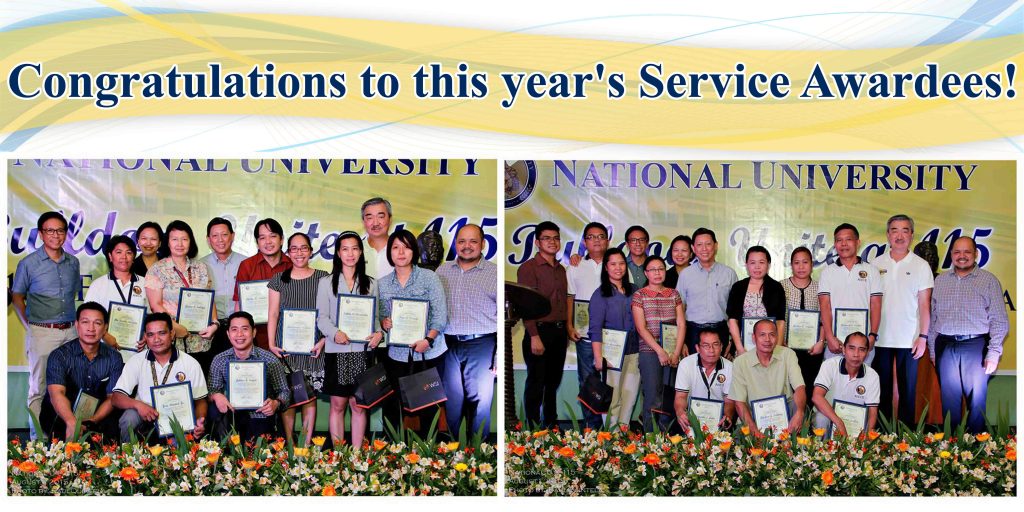 Thank you for serving the University with dedication, commitment and loyalty.
35 years: Aguda, Ruby Elaine J.; Gesmundo, Noli G.; Roque, Violeta M.
30 years: Pinca, Susana B.
25 years: Cerbito, Bernardo O.; Bunsay, Pepito D.
20 years: Tejano, Epifania M.
15 years: Labang, Marlon I.; Toquero, Jocelyn O.; Yulde, Judit T.
10 years: Bermas Jr., Basilio L.; Cedilla, Jaime A.; Junio, Reynaldo T.; Manianglung, Gwen D.; Omelda, Melchora
5 years: Alamodin, Editha A.; Bagara, Marlon G.; Bendal Jr., Jose; Garcia, Dulce D.; Lawas, Ricky R.; Miranda, Ma. Imelda; Rodriguez, Maria Gailanne L.; Salaya, Gracie C.; Sayco, Julius F.; Virrey, Ivee C.