NU President Ermita supports enhanced Faculty-Management Relationship
To further strengthen the working relationship between the university administration and the faculty members, the National University Faculty-Management Council signed a Memorandum of Commitment facilitated by DOLE's National Conciliation and Mediation Board, last August 1 at the NU Main Building Function Room.
It was attended by NU's Faculty representatives, Management representatives, and partners from DOLE- Regional Conciliation and Mediation Branch-NCR, headed by Regional Branch Director Ms. Cynthia Foncardas, alongside NU President-CEO Dr. Renato Carlos H. Ermita, Jr., Executive Vice President Dr. Rosauro E. Manuel, HR Senior Director Ms. Aimee Jane Martinez, Faculty Chairperson Mr. Aldrin Salipande, and Faculty Vice Chair Ms. Priscilla Evangelista.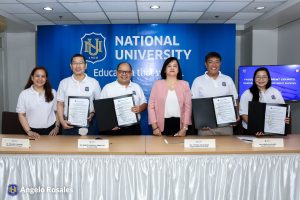 President Ermita shared how happy they were that the Memorandum of Commitment Signing Ceremony was held on such a timely and special day, as NU celebrates another year of academic excellence. "Personally, it is always a day of reflection for me on our roles, our commitments, and our vocation as educators. I strongly believe that we would not be lasting 122 years if we are not doing anything good", the President/CEO shared.
He also mentioned that National U recently earned a three-star overall rating with 5 Stars in Teaching and 4 Stars in Online Learning from QS Stars – a system for evaluating university performance worldwide.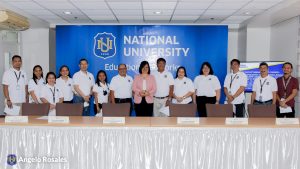 Meanwhile, EVP, Dr. Rosauro E. Manuel recognized the faculty as part of the management which will help the University achieve its goals saying that "One of the most important resources that a company has is, has been, and will always be the people."
The memorandum aims to promote labor productivity and ensure harmony within the workforce through better communication and efficient discussion of the faculty's concerns, welfare, and other working conditions.