NU President's Report 2022
The 2nd annual NU President's Report was delivered by President/CEO Dr. Renato Carlos H. Ermita, Jr. last August 8, 2022, at the National University, Manila campus. The event was hybrid (in-person and online) and was graced by employees across all NU campuses.
President Ermita highlighted that the year 2021-2022 was an extraordinary year that despite all the challenges, National University's resilience shone through. He stressed that the institution had advanced further with the help of one another: support personnel, faculty, administrators, and the institution were quick to adapt to all the circumstances while ensuring the continued delivery of outstanding education and without compromising the health and safety of all community members.
The points discussed were the status of the institution, accomplishments, excellence in sports, expansion projects, employee recognition and advancement, and the plans and commitments for the coming academic year.
Bannering the accomplishments of the academic year 2021-2022 was the recently earned three-star overall rating from QS Stars, with 5 Stars in Teaching and 4 Stars in Online Learning – a system for evaluating university performance worldwide. Indeed, National University continues to grow and remains committed to providing quality, accessible and affordable "Education that works" nationwide.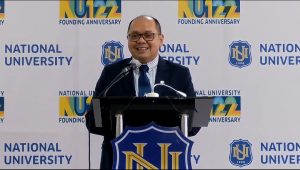 When asked about the plans/established parameters and readiness for NU HyBlend and in-campus attendance, Dr. Ermita assured the students and employees of safe access to the school and that NU is ready, both on technology and health aspects, while maintaining the processes and policies that are consistent with CHED's instructions. HyBlend is the learning approach for most professional courses for AY 2022-2023, wherein classes will be offered face-to-face, with synchronous and asynchronous online learning components.
Employee welfare was one of the key points discussed in the President's Report. Sir RJ stressed that the welfare of the employees of the university is a priority and that as an educational institution, no amount of technology or physical facility -no matter how good that is, will replace the people that NU has. "We want people to stay and to value working and learning in NU".
At the end of his report, the president acknowledged everyone's cooperation in 2021-2022 and encouraged them to reflect on their objectives, roles, and commitments to NU. "All of us are connected, it is only together that we can accomplish a lot and continue with our commitment to education that works. "-RHE