National University marks 122 years of academic excellence
National University celebrated its 122nd founding anniversary, yesterday, August 1 at the NU Main Campus. The celebration started with a Thanksgiving Mass followed by the Wreath Laying Ceremony at the monument of NU Founder, Don Mariano Fortunato Jhocson.
The Jhocson Street was graced by the presence of the kin of Don Mariano and the representatives of NU stakeholders; the top management, employees, alumni, and students. NU President and CEO, Dr. Renato Carlos Ermita, Jr., in his Welcome Remarks, requested a minute of silence to offer a prayer for the eternal repose of the soul of the NU Alumnus, Former President Fidel V. Ramos.
"The way to the future is derived from honoring the past." These were the words of Mr. Teodoro Jhocson Ocampo, Vice Chair of the National University Board during his inspirational message as he also thanked the SM Family for launching NU's continuous success in producing future "nation-builders".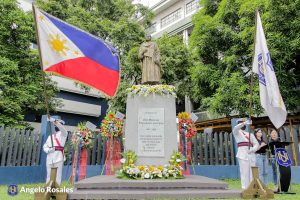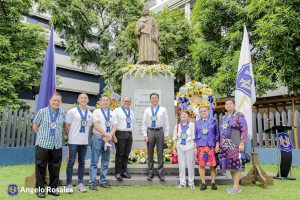 Afterwards, a number of employees were awarded for their 5-30 years of service and the NU Oval Awards — the most prestigious award given to employees who embody the Core Values of a Nationalian.
The event was enlivened by the performances from the National University Band, NU Chorale, NU Dance Company and the NU Percussion Department.
Meanwhile, the NU 122nd Anniversary Committee prepared a month-long celebration for the community; Sportsfest on August 5, Mr. & Ms. NU 2022 (Employees) on August 22, Filipiniana Dress-up on the 30th, Employee Mural on the 31st and the NU Bazaar from August 22-26, alongside, there will be a Faculty, Staff and Leaders Conference on August 10 and 17, respectively.