Former Lady Bulldog chosen to be part of PH volleyball team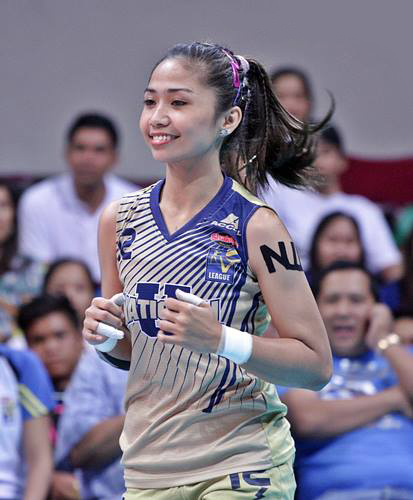 A Nationalian is about to make not only the university but the country proud.
Former National University Lady Bulldog libero Jennylyn Reyes was chosen to be part of the Philippine team that will compete in the upcoming FIVB World Club Women's Championship to be held on October here in the Philippines.
Last July 19, Reyes was given the 'golden ticket' and was named as the fourth member of the 'Magnificent 7' — or the 7 local volleyball players that will represent the women's national volleyball team.
The former UAAP Season 75 Best Receiver and Best Digger is emotional after the announcement of her inclusion in the Philippine team.
"I feel happy and blessed because I'm one of the few chosen to be part of the team. I did not really expect this, and though I know I can't please everybody with my skills and some might still question my inclusion in the team, this opportunity will serve as an inspiration for me to work harder so I can show everyone that I'm worthy of the spot." Reyes said in Filipino.
The 5-foot-2 libero played for National University Lady Bulldogs from UAAP Season 71 to Season 75. After digging awards in her stint with the Lady Bulldogs, the NU alumna expressed gratitude to the university which served as her second home for five years.
"I'm very much thankful to NU, because the university helped me a lot, they are the reason why I am here at this place right now." Reyes stated.
According to Reyes, she was not able to attend the try-out and was only recommended by Coach George Pascua, her coach in her Philippine Super Liga team, Petron. The 25-year old volleybelle is currently juggling her career as a Customer Sales Representative in a huge electric company while still playing in PSL.
Asked who does she think should be named in the remaining spot, Reyes was quick to answer.
"Hopefully, and I know Jaja (Santiago) will also be included (in the Magnificent 7). She deserves a spot in the final 7." Reyes ended.
Aside from Reyes, three others were given the golden ticket; RC Cola Army duo Jovelyn Gonzaga and F2 Logistics Cargo Movers setter Kim Fajardo. The three other names are yet to be announced. The FIVB World Club Women's Championship will be held on October at the Mall of Asia Arena in Pasay City.