NU – PNP sign MOA on online protection of children against cybercrimes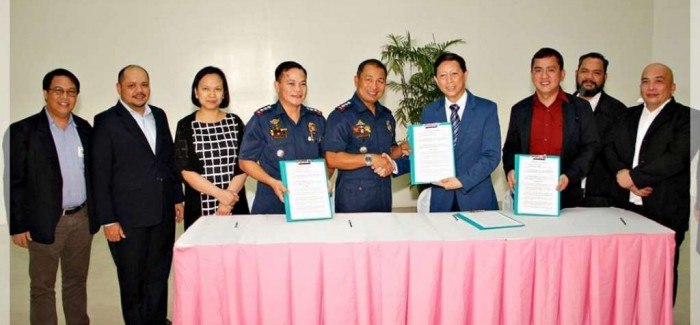 National University (NU)'s concern for the welfare of children rolled to action by once again signing a memorandum of agreement (MOA) with the Philippine National Police (PNP) during the 2nd National Summit on Cybercrime called "ANGELNET SUMMIT 2015: Protect our Children Online" held at the PNP Multi-Purpose Center, Camp Crame, Quezon City from March 17 to 19, 2015.
The MOA aimed to engage the two signatory parties to an exchange of resources for digital forensics in preventing or busting crybercrimes. NUsigned the MOA through the president, President Teodoro J. Ocampo and the dean of the College of Computer Studies Dr. Rolando R. Lansigan and witnessed by the Executive Vice President (EVP) Mr. Renato H. Ermita, Jr. and the Vice-President for Academic Affairs (VPAA) Dr. Rachel Edita O. Roxas.
The NU representatives through Dean Rolando R. Lansigan delivered a speech of support for the PNP Anti-Crime Group (ACG) in its operation against cybercrimes and of willingness to provide the university's available forensic resources for this purpose.
Their counterpart from the PNP Anti-Cybercrime Group was the tandem of Police Senior Superintendent (PSSUPT) Gilbert C. Sosa and PSSUPT Arnold D. Gunnacao.
Other attendees were Engr. Raul Quintela, Dr. Richard Huyaban, Mr. Jayson Bermudez, and Mr. Cleo R. Martinez- all from National University; and delegates from different public and private schools in Metro-Manila and from different industries.