NU CEAS receives international research recognition
National U's Dr. John Irish G. Lira and Dr. Esperanza D. Pascua of the College of Education, Arts, and Sciences were invited to present their research paper entitled "Level of Technological, Pedagogical, and Content Knowledge of Professors in National University, Manila: Basis for a Proposed Computer Literacy Program" at the 11th International Conference on Information and Education Technology (ICIET 2023) and 9th International Conference on Knowledge Engineering (ICKE 2023) in Fujisawa, Japan last March 18 – 20, 2023.
This conference was co-sponsored by the Institute of Electrical and Electronics Engineers (IEEE) and Shonan Institute of Technology, Japan. The objective of the conference was to provide a premium platform to bring together researchers, scientists, engineers, academics, and graduate students to share up-to-date research results. During the conference the participants acquired theoretical grounding, practical knowledge, and personal contacts that would help them build a long term, profitable and sustainable communication among other researchers and practitioners in their related scientific areas. The program allowed the participants to present and discuss the latest research and industrial developments in their respective fields.
The three-day event was held both onsite and online for participants all over the globe. Dr. Lira and Dr. Pascua were among the six presenters who were awarded Certificates for Best Presentation while their paper was also now successfully published in Scopus Index.
Dr. Lira shared that they are proud to represent National University and the country. They are thankful for the support given by National U, the ICIET Organizing committee and NU CEAS.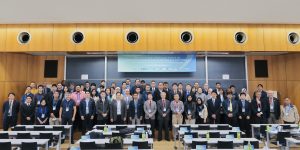 : Dr. Lira/NU CEAS