National U signs partnership with BDO Foundation to teach small farmers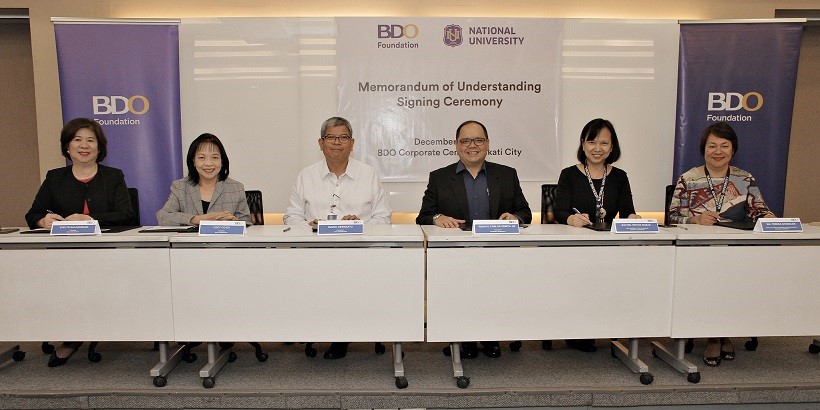 The National University and BDO Foundation recently sealed a partnership for a community extension program that is set to benefit small farmers across the country. The MOA signing ceremony which was held at the BDO Corporate Center in Makati City last December 7, 2018 was attended by some of NU and BDO Foundation's top officials including Ms. Evelyn Salagubang, the Senior Vice President of BDO HR Group, Ms. Joanne Bongat, VP/Team Head for Financial Institutions-Banks of BDO, BDO Foundation president Mr. Mario Deriquito, Dr. Renato Carlos Ermita Jr., National U president, VP for Academics Dr. Rachel Editha Roxas and College of Business and Accountancy Dean, Dr. Ma. Theresa Gonzales.
BDO Foundation has been helping and assisting farmers around the country and basic accounting is one of the aspects where they noticed that farmers need to learn more. National U was tapped to teach their beneficiaries with basic accounting, bookkeeping and budgeting techniques.
"In this project we will be developing a module, a session guide that will teach simple accounting to farmers. It is a Tagalog-version of accounting, para mas madaling maintindihan." Dean Tess said.
NU and BDO will also partner with a local university to help them in monitoring the progress of the farmers as well as for community-immersion.
"Aside from teaching the farmers, we will monitor if they were able to follow the guidelines that we will give them, if they were able to measure their revenue, and if they were able to separate their household expenses from their farming expenses."
Faculty-members will lead the sessions and classes while some students will also be invited for immersion in the first leg which is targeted to pilot in Bulacan.
"This is partly immersion because the students will know and understand that there is another side of the business, not just the corporate world but we also have agri-accounting which is also an essential part of the business world."
The project is set to be launched in the first quarter of 2019 in Bulacan.