National U kicks off 116th founding anniversary with 2016 OVAL Awards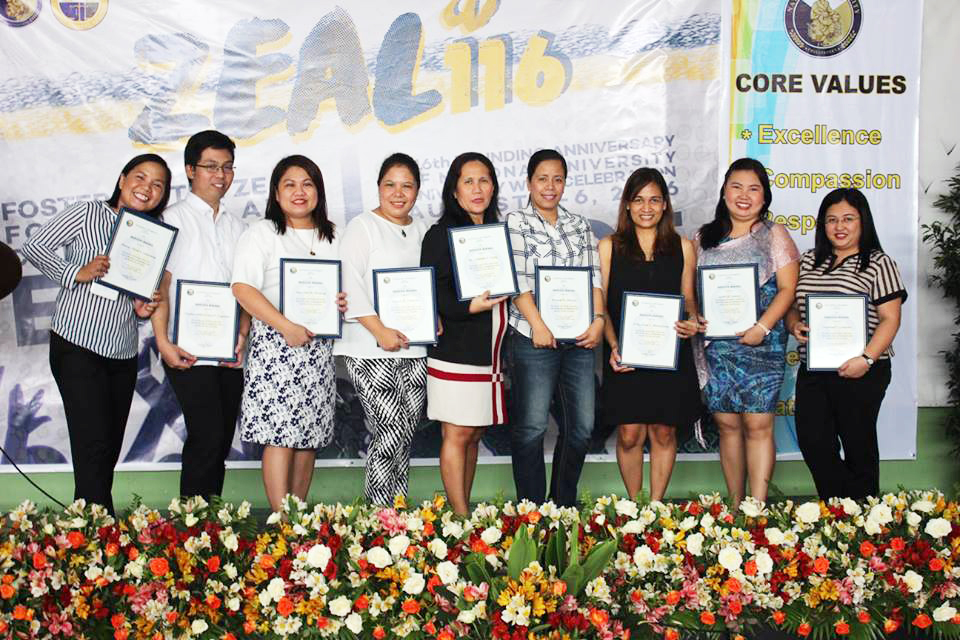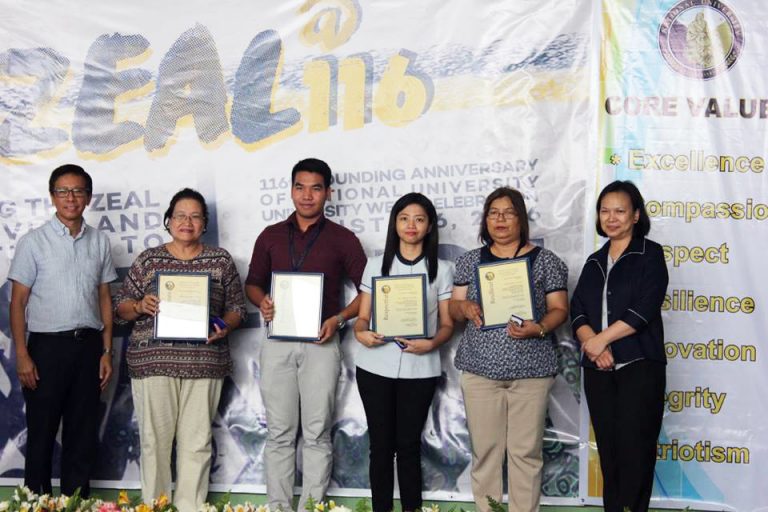 Outstanding employees and faculty members were given recognition in NU's Outstanding Values (OVAL) Awards 2016 held last August 1 to start off the university's 116th founding anniversary celebration.
In line with its theme, Fostering the Zeal for Service and Commitment to Excellence, five employees and faculty members were awarded based on the university's core values.
Engr. Elizabeth Rivera of CEAS was awarded as 'Compassionate', 'Trustworthy' is Mr. Ricardo Villas Jr. also from CEAS, 'Respectful' is Ms. Abigail Bautista of FAO, 'Resilient' is Engr. Edna Jacinto from COE and 'Industrious' is Mr. Jan Felix Ayonayon of the COE-Laboratory.
Aside from the five OVAL Awardees, twelve employees and five faculty members were also honoured as 'Service Awardees'. According to VP for Administration Services Jose Nilo J. Ocampo, the Service Awards recognizes the employees' hard work and dedication to the school. "We want to honour and appreciate the things that they do for us and for the university. We want them to know that we appreciate their sacrifices." Ocampo said.
Five-year service awardees under employee category are Ronnet Altuna, Marichu Alvarez, Maria Oliva Calimag, Cristina Capada, Chester Jethro Clint Jugador, Rochelle Cruz, Dolly Rose Manalang and Cherry Topacio.
Ten-year service awardees are Leah Manio and Edilberto Paderan and awarded for their twentieth and twenty-fifth year of service are Jessie Lamata and Rolando Lansigan.
Five-year service awardees from the faculty members include Maria Luisa Bautista, Rafael Dimaculangan, Lilibeth Diaz, Ma. Louella Sta. Maria and Romeo Quillao Tolentino.
The OVAL Awards served as the kick-off program of the 116th founding anniversary of the university and one of the highlights of the week-long celebration.