Milette L. Teodosio – Luna Program Chair of Department of Pharmacy of NU Manila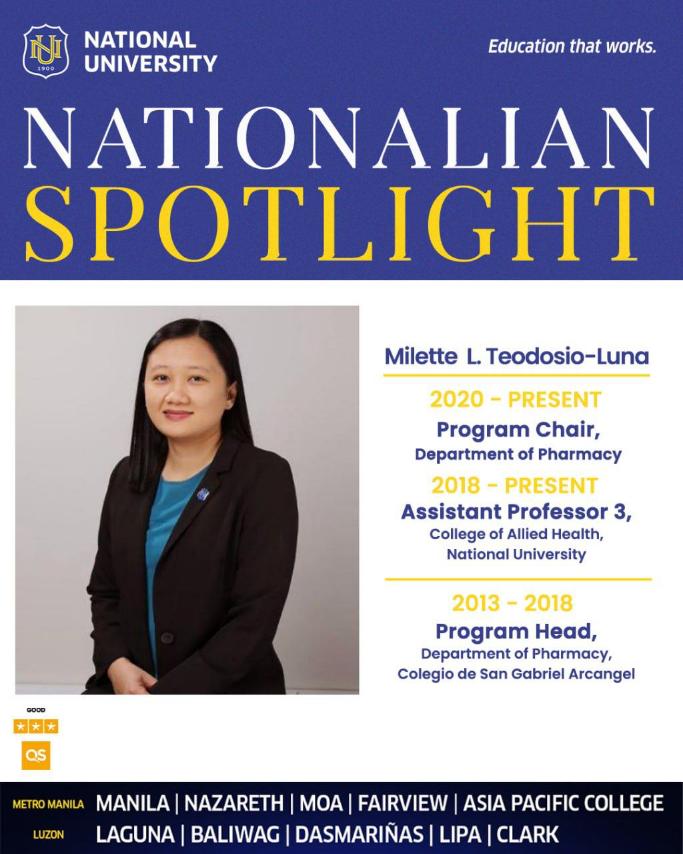 Rising to the top of the pharmaceutical world, this Registered Pharmacist has forged a remarkable path in both industry and academia.
After obtaining her Bachelor of Science in Pharmacy at Centro Escolar University Malolos, she honed her skills as a Quality Control Laboratory Analyst and later a Laboratory Supervisor at Pascual Laboratories, Inc.
Driven to deepen her understanding of Manufacturing Pharmacy, she earned her Master of Science in Pharmacy (Industrial Pharmacy) at the University of the Philippines Manila. With her extensive training and experience, she made a leap into the world of academia, where she served as a lecturer, internship coordinator, and program chair for six years. She also studied courses such as Pharmaceutical Analysis, Physical Pharmacy, and Cosmetic Product Development.
In 2018, she joined the National University-Manila College of Allied Health as a full-time faculty member, imparting her expertise in courses such as Pharmaceutical Chemistry, Physical Pharmacy, and Cosmetic Product Development.
Currently serving as the Program Chair of the Pharmacy Department, this pharmacist's dedication to the field has earned her recognition as a guest lecturer at review centers across the country.