MEET: Engr. Jimson V. Ornido; The Topnotcher Who Dreamt Big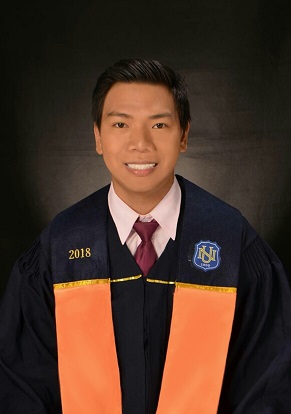 He could have chosen another course, but he chose Electronics Engineering. He could have enrolled in another university, but he picked National U. He could have stopped dreaming instead he worked hard to achieve his goal. It could be destiny, but it is also a fruit of his hard work and perseverance.
Meet Engr. Jimson V. Ornido, 21-year old Electronics Engineering alumnus of National U who recently topped the 2018 ECE licensure exam placing sixth.
Who would have thought that a simple dreamer who hails from Valenzuela City would make a name for himself when he never even thought he would be able to study in college.
"I am the third child of eight children. Our only source of income back then was coming from our street food business. And it was hard to budget our very small income to suffice our daily needs. When I graduated from high school, I had doubts if I will be able to proceed to college that time since my two older siblings were still in college. Fortunately, SM Foundation granted me a scholarship to continue my studies at the National University." Engr. Ornido shared.
After becoming an SM Foundation scholar, Ornido eyed Electronics Engineering since he knew he is good in Mathematics and Physics. But despite knowing where he is good at, he faced several challenges that tested his resilience.
"One of my struggles during college years was that I had to wake up so early in the morning so as not to come late for my classes. And then came the different requirements and projects that needed to be passed. Those were the times that I realized I needed to strive harder."
Engr. Ornido used these struggles to work harder, not just for himself and to give back to National U but to help his family.
"It was during review that I realized I had a real chance of topping the board exam. Having ranked first place in our review center's pre-board examination, I decided to master every topic and to give my best for the actual board exam."
And truly they say that when you believe in yourself, there is no mountain too high to climb, he did not only pass the October 2018 Electronics Engineering Board Examination, he even placed at the sixth spot.
"If I gave up on my dreams, I would not be where I am today. God provided me everything I needed in His wonderful ways."
And now, after all that he went through, it is time to continue living the dream for Engr. Jimson Ornido.