NU-Sta Elena dethrones Cignal as Spikers' Turf Champions
NU-Sta Elena Nationals ended the Cignal HD Spikers' reign as they surpassed the long-serving team in a 25-18, 23-25, 25-23, 25-23 coup on Game 2 of the 2022 Open Conference final round today at the Paco Arena.
Former NU player Peter Torres' serving skills put pressure on NU-Sta. Elena's defense, giving the defending champs a 4-0 run. Regardless, NU managed to retaliate with 5 straight points leading the team to technical timeout, 16-15.
The Nationals managed to close the first set through Retamar's service ace; however, the team suffered from a scrambled play and was unable to steal the second set, 23-25.
At the third and fourth frame, although they started shaky, NU finally got their groove and secured both sets to wrap their journey to the gold medal.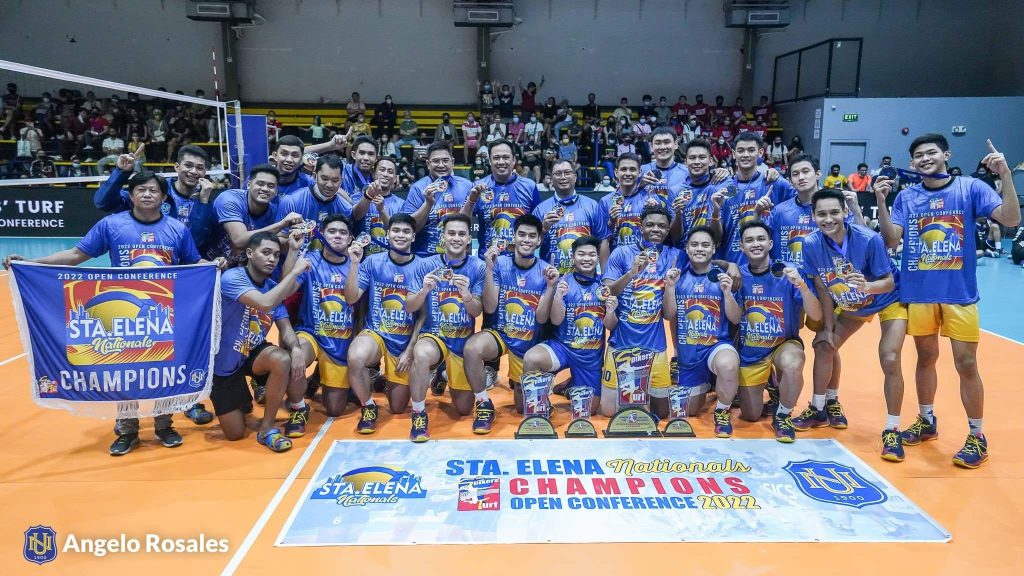 During the final salvo, Season's Best Setter, Owa Retamar activated the hailed Conference MVP Nico Almendras. In the post-game interview, the 23-year-old spiker shared his happiness that their hard work finally paid off. He also mentioned that they still have another league that they need to prepare for.
Meanwhile, Obed Mukaba and Michaelo Buddin were named as the League's best middle blocker and Final's MVP, respectively.
Head Coach Dante Alinsunurin stressed that exposure from different tournament participations has helped and developed the team's maturity in every game.
The same roster is expected to partake in the Premier Volleyball League and UAAP Season 85 Men's Volleyball Tournament.