NU Manila 4th Year Electronics Engineering students entered the Giga 25 of PLDT-SMART's Innovation Generation Season 3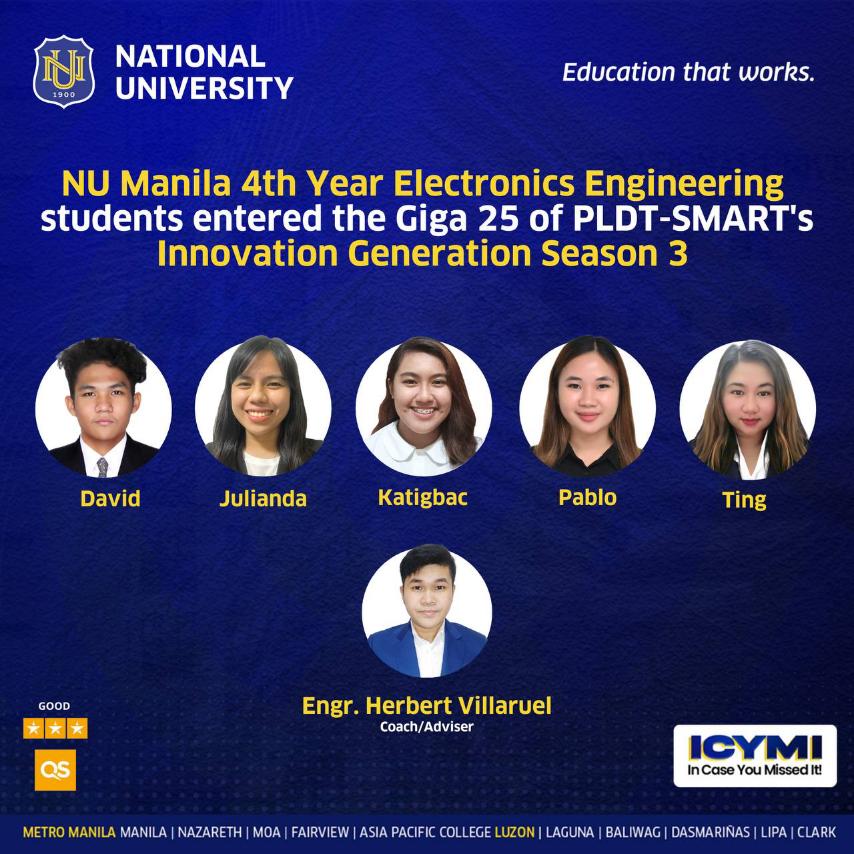 From ideation to innovation: Team ENG.HALERS composed of five (5) 4th year Electronics Engineering students and their ECE faculty adviser from National University-Manila has secured their spot in the final phase of Innovation Generation Season 3 hosted by PLDT and Smart.
According to the provided program manual, Innovation Generation (InnoGen) is an innovation grant program offered to Filipino senior high school, and university and college students. InnoGen aims to empower and enable the youth to take a bigger and more active role in nation-building and re-building through innovation and technology.
After successfully navigating through several stages of the competition (from Kilo 100 of Phase 1 to Mega 50 of Phase 2 and now Giga 25 of the final phase), these young innovators and soon-to-be Nationalian Electronics Engineers are ready to present their inclusive and innovative idea about Asthma and Pneumonia Diagnosis using Machine Learning Algorithm through Sound Analysis.
Congratulations on your remarkable achievement, Team ENG.HALERS!
The Nationalian community is looking forward to seeing your idea come to life.
#NationalUniversity
#EducationThatWorks