Nationalian Pride Jonel C. Lunario, CFMP, CSSA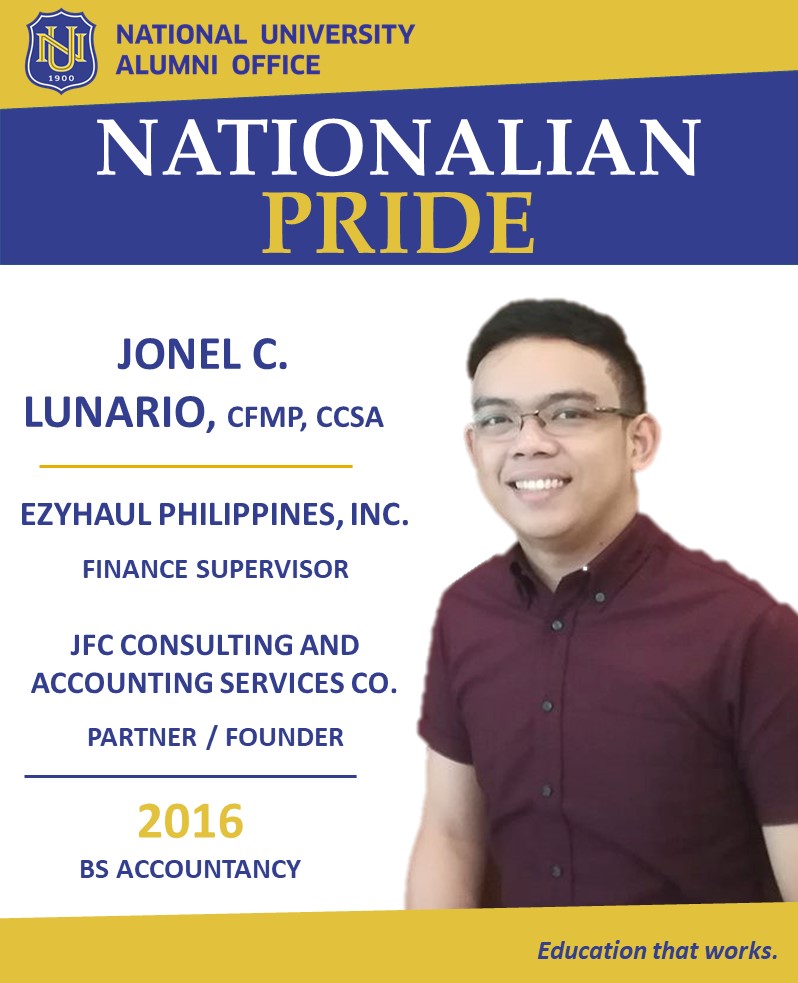 Jonel Lunario C. Lunario, CFMP, CCSA
Certified Financial Market Professional
Certified Cloud Systems Analyst
Regional Chief Associate for Academics – National Federation of Junior Philippine Institute of Accountants – NCR
President – National University Junior Philippine Institute of Accountants
President – National University (The rising Epitome of Social Science)
Megaworld Scholar
Academic Excellence Awardee (2012 to 2014)
Manuel S. Enverga Academy Foundation, Inc.
Jonel Lunario graduated with a degree in Accountancy in 2016. He earned his Certificates in Financial Market Professional and Cloud Systems Analyst, and he's a Finance Supervisor at Ezyhaul Philippines, Inc. His passion for taxation and consulting services made him and his colleagues start their own company—JFC Consulting and Accounting Services Co. He was a Regional Chief Associate for Academics of the National Federation of Junior Philippine Institute of Accountants.
Since he was a consistent achiever from high school to college, he received an academic scholarship from Megaworld. Lunario didn't stop there; he was relentless. He became the president of two university organizations—the NU Junior Philippine Institute of Accountants and The Rising Epitome of Social Science Society. His achievements catapulted him to receive an Academic Excellence Award for three consecutive years from 2012 to 2014.
It's noticeable that accounting and consultancy impose a responsibility of refinement. But that doesn't mean you can't have mistakes. "It is normal committing mistakes; through time we learn to embrace it, and learn from those misdeeds…Commitment and excellence are two primary ingredients for successful individuals." He believes that putting excellence in your craft will deliver you great results. "Countless sacrifices and efforts are part of success and we have to learn from them"—Jonel Lunario.
JFC Consulting just celebrated its first anniversary. Jonel has been known by his colleagues for his work ethic of enthusiasm and optimism. He is dedicated; and never lets anything distracts him from delivering quality results. He radiates a euphoric work attitude, which is extremely helpful for them to overcome their daunting profession.
Over the past decade, we were exposed to significant changes; advanced technology that could threaten employability; fast-paced living, and high peer pressure; these things overwhelmed us. However, Jonel believes that it is still better to slow down and enjoy the process of your becoming. Though we are living in a hasty environment, overnight success is pseudo. Learn from your sacrifices, efforts, failures, and rejections. Savor the moment of each process, and eventually, one day you will realize you're already in the position you once prayed for.
#EducationThatWorks