Manolito Octaviano – NU Manila Computer Science Program Chair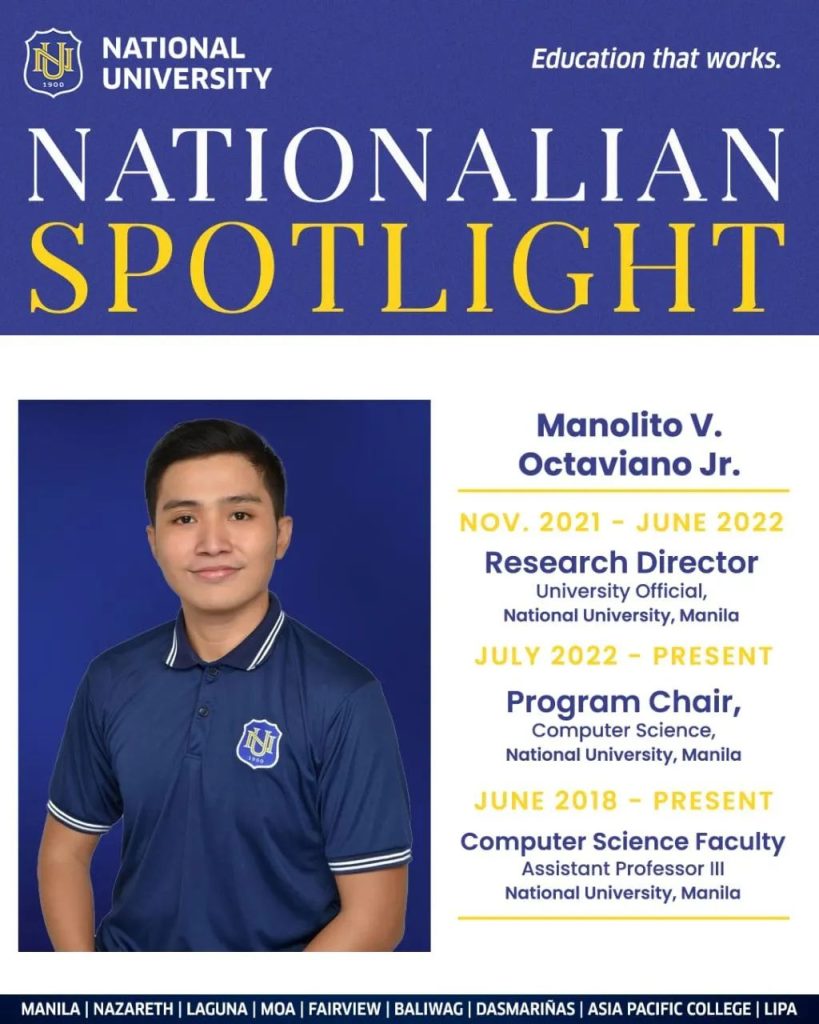 Mr. Manolito V. Octaviano Jr., or Sir Mano to National University is the Computer Science Program Chair. He is a true blooded Nationalian, graduated with a Bachelor's degree in Science, Major in Computer Science from Nationalian University as an SM Foundation Scholar. To master his craft, he completed a Masteral Degree in De La Salle University as a DOST-ERDT Scholar. Currently, he is taking his Doctor of Philosophy at the UP Diliman. 
Sir Mano found his way back to NU in 2017 when he became a Research Fellow of the CHED-PCARI Project. He, then, decided to share his experience and expertise to the younger generation by joining the Computer Science Department as an Assistant Professor. Having a deep knowledge in the field, he finally got the role to lead the research activities of NU as its Research Director back in 2021.
His love for research and philosophy led him to producing enormous work in Research Publications here and all over the region, namely Japan and Hong Kong. Most recently, he orchestrated a research initiative funded by the National Commission for Culture and the Arts – Building Speech Corpora of Philippine Languages. He also held active roles in different workshops and seminars – Oxford Machine Learning Summer School: AI for Global Goals, University of Oxford's Deep Medicine and CIFAR and Graduate Symposium for Ph.D student: Google Research India, just to name a few. 
Sir Mano's body of work makes NU and its Research Center an avenue for expert knowledge and new learnings.