FEATURE: Architect Arnulfo "Arnold" De Asis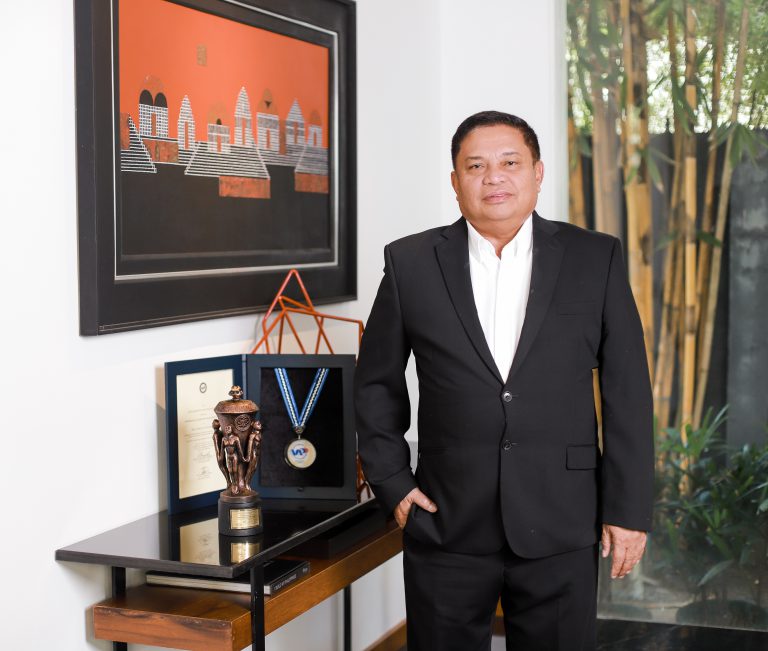 In 1945, the Architecture degree program was added into National University's growing number of course offerings. Since then, it has produced thousands of architects who are continuously bringing pride to National U. One of them is Architect Arnulfo "Arnold" De Asis, a proud alumnus from batch 1978 and a co-founder of one of the country's top construction firms.
While his company boasts of its indestructible foundation having been in the business for 35 years, Architect Arnold De Asis admitted that he had a wobbly start in achieving his dreams.
"I entered NU in 1972, parang naka-one-year lang ako, and then I stopped on my second year because wala akong pang-tuition. My father who has a farm in Samar sinabihan ako na mag-quit ka muna, kasi may bagyong dumating nasalanta ang farm, hindi natin kaya ang tuition."
He was then asked if he would like to continue studying in the province, but he was already locked on his target of becoming an architect. After stopping for a year, he was able to return and study again in National U. He recalled that one of the most memorable experiences during his college life was the struggle to go up and down of NU's main building.
"We had to climb 5 floors every day because there was no elevator. Ang architecture kasi was on the 5th floor, the whole architecture, and because of that, I failed some of my subjects."
Despite the struggles, Architect De Asis worked hard to finish and through his patience and his parents hard work, he was able to complete his tertiary level in 1978. He then entered DMCI immediately after graduation for internship and work. After 2 years, he took the Architecture board exam which he eventually passed and the rest they say is history.
In 1984, he co-founded DATEM with two other professionals he met at work. Right now, DATEM is one of the leading construction firms in the country, accredited as a Quadruple A contractor, the highest rating given by the Philippine Contractors Accreditation Board to a construction firm. Some of the prominent projects they worked on are the Ascott Hotel in BGC, ABS-CBN's ELJ Communication Center, Venice Grand Canal Mall in Taguig, and Discovery Primea in Makati.
Recently, he was named as the 2019 Presidential Excellence awardee of the United Architects of the Philippines and 2019 Outstanding Professional of the Year awardee in the field of Architecture by the Professional Regulatory Commission, recognitions he would like to share to architects in the construction industry.
But for Architect De Asis, he believes that the setback he experienced in college brought him to where he is today.
"Looking back, I said maybe may kabutihan din na nag-stop for a while, maybe the opportunity of us putting together this company won't be there diba. It is indeed a blessing in disguise."
Now at the tail-end of his profession after working for 41 years in the industry, Architect De Asis is proud to be a product of an institution with distinct core values.
"The education I got from NU prepared me for something bigger in my life. Whenever I talk to students of today or the fresh graduates, I always tell them to revisit themselves, see what values from your university you can hold on to. Because you will never go wrong if you have values where you can anchor your practice or profession."
Now on his retiring age, Architect De Asis is also proud to look back and give back to National U, the place where he started his small dream of becoming big in the field of Architecture.