NU President's Report 2021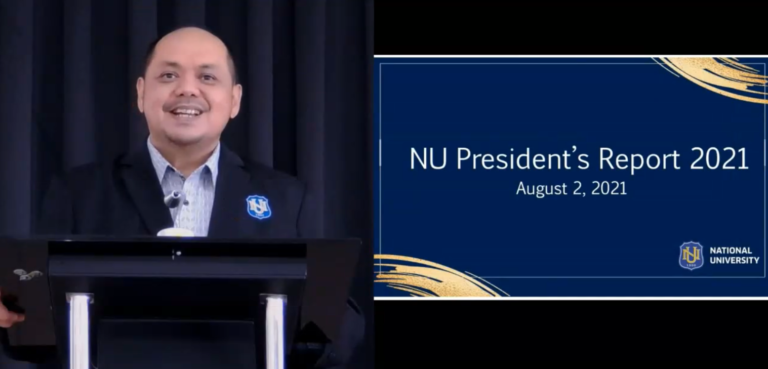 The first NU President's Report was delivered virtually by National University's President Renato Carlos H. Ermita Jr., PhD, last August 2, 2021. The event was attended by the NU employees across all campuses.
The University President emphasized that academic year 2020-2021 was a year of resilience and compassion. That even though there were challenges brought by the continuous spread of the Covid-19 virus and restrictions due to different quarantine classifications, with the cooperation of everybody, National U, has held on to all their employees and even grown to 13,729 students and 1002 employees.
Here are the points discussed in the 2021 NU President's Report:
Resilience and Compassion
The status of the institution, enrollment and employees amidst the Covid-19 Pandemic
Implementation of NU Flexible Learning Experience (NU FLEX) with Remote Asynchronous/Synchronous Learning (RASL)
Limited face-to-face classes for Medical Technology and Nursing Programs
Launch of the NU life app and in campus health protocols
Covid-19 Employees' vaccination thru the SM conglomerates program and Covid-19 Vaccination Medical Volunteer Group
Employee welfare during the pandemic
(Increased group life insurance, work from home arrangement, shortened working hours, transportation assistance and mental health awareness related programs.)
Role of the NU Alumni frontliners during the pandemic
Update on the Founder's monument
NU Accomplishments
ISO 9001-2015 Certification
Extension of CHED Autonomous Deregulated Status
Extension of Information Technology program's Center for Excellence status
PACUCOA Accreditation
Level 3 – 14 programs
Level 2 – 5 programs
Level 1 – 2 programs
Candidate Status – 2 programs
Recognized by the Philippine Institute of Certified Quantity Surveyors (PICQS) as the first institution to become a Quality Surveying Academic Partner (College of Engineering)
Special citation for AB English program for being the first to reach level 3 accreditation from Pacucoa (NCR)
Result of Licensure Exams
2021 Sanitary Engineering Board – 75%
July 2021 Nursing Licensure Exam – 100% (First time takers)
Increase in number of Scopus Index Papers to total of 148; Ranked 24th in the Philippines.
Webometrics Rank #53 as of January 2021
Inspire Sports Academy's was the chosen training venue/facility of the Philippine National Team that competed internationally during the Covid-19 pandemic (Calambubble)
Successful launch of the NU Baliwag (Bulacan)
Expansion Projects
Opening of NU Dasmarinas (August 2021)
Alice G. Eduardo Tennis and Aquatic Center (Inspire Sports Academy) Expected to finish construction, end of year 2021
NU Lipa (2022)
NU Clark (2023)
NU Bacolod & NU East Ortigas (2024)
NU Davao & NU Cebu (2025)
NU Southmall Alabang (2026)
NU Iloilo (2027)
5 Year Strategic Resolution (Covers 2021 up to 2025-2026)
Continuous commitment to relevant, innovative, and accessible quality education supported by the expansion projects in different areas of the country.
Refinement on mission, vision and graduate attributes of National University, with emphasis on the mission for all the stakeholders of the university.
Simplified core values from 7 to 5; integrity, compassion, innovation, resilience and patriotism.
Commitments
To renew the Autonomous Status as a higher educational institution after 2023.
To acquire a QS Star rating that later will lead to QS University Rankings.
To acquire PACUCOA Accreditation
Level 4 – 13 programs
Level 3 – 5 programs
Level 2 – 6 programs
Level 1 – 3 programs
Looking forward to new programs in new campuses and at least a candidate or Level 1 status for NU Manila programs.
Commitment towards producing Board Exam topnotchers and continuous improvement of board exam performance of at least 80% passing regardless of what the national passing average is.
Recertification of the ISO 9001-2015 when it is due in 2022
To create a standard of producing 50 scopus index papers per year
Commitment to International University memberships and recognitions
Improvement on the university's proofing measures against Covid-19
Implementation of the NU Service Helpdesk to provide good customer experience for services and processes
Better brand recognition and credibility of National University to employers, partners and alumni. Making sure that NU is a trusted institution for learning of all students in the 21st
To be recognized within the top 10 schools in the Philippines, in programs and/or institutional level
By 2025-2026, commitment to have at least 12 campuses and 60,000 students across all NU campuses
Dr. Ermita emphasized that the university is committed in providing instructions that are conducive and safe, with the technology and all the bandwidth to make sure that NU is ready anytime face to face classes are declared.
When asked about preparations of physical and academic infrastructure, President RJ mentioned that since not all campuses are designed to be capable to have air exchange, ventilation is one of the things that they are preparing along with more improved in-campus protocols. More importantly, the president has high hopes of having the students vaccinated prior to the start of classes, if not, the university is looking at other ways to better monitor their health situation.
At the end of his report, President Ermita encouraged the NU employees to continuously have the sense of mission, focus and commitment towards achieving extra ordinary things even in this trying time. He is very certain that with everybody's support, NU will not just survive but thrive to beat the challenges and not just get back on track but to really excel and propel to greater heights.
He emphasized that National U is not only proving to be resilient but also taking a stance, continuously moving and working hard to be emulated by other institutions. A real commitment to "Education that works".