National U successfully hosts Alumni Day 2019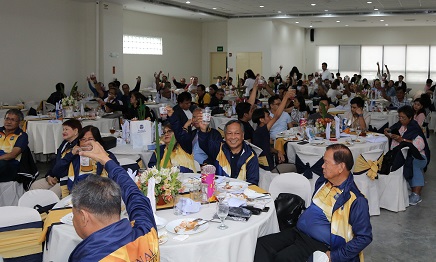 National University, through its Alumni Affairs Office, successfully hosted the 2019 Alumni Day last August 3, 2019 at the 12thfloor, Multi-purpose Hall, NU Annex Building in Manila. Despite the bad weather, the program pushed thru gathering different National U alumni groups and around 200 alumni from different parts of Luzon.
Among the highlights are the awarding of the 2019 Exemplary Alumni, pinning of jubilarians and the inspirational talk from guest speaker and alumnus Engr. Vicente Dyreyes. National U president, Dr. Renato Carlos Ermita Jr. led the pinning, awarding of NU's exemplary alumni and the toast for the celebration. Recognized as 2019 Exemplary Alumni are Hon. Ricardo De Galicia, Vice Mayor of Torrijos, Marinduque and Hon. Isidro Galban, Board Member, 1st District-Province of Aurora. NUAFI, NUHSAA and the College of Architecture alumni association also updated the attendees on their future events and activities.
The event was sponsored by R. Lapid's Chicharon & BBQ, Jim Beam Highball, PikNik, Carlo Rossi, YSA Skin Care Corporation, Nice Day Coffee and Glutamax.