Nationalian Pride – Architect Bibiano A. Luzande, Jr.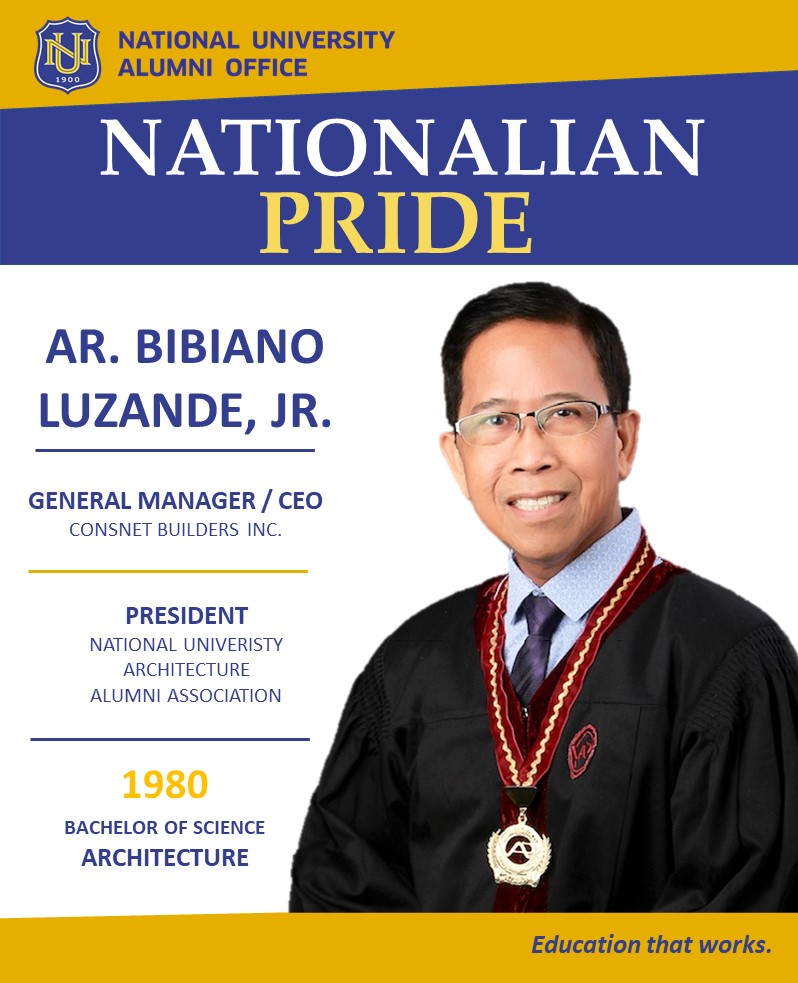 Nationalian Pride Architect Bibiano "Bibs" A. Luzande, Jr. FUAP
General Manager & CEO – Consnet Builders, Inc.
Distinguished Alumnus of Architecture (2011)
NU Most Outstanding Alumnus Awardee for Architecture (2010)
United Architects of the Philippines (Fellow)
President – UAP QC Central Chapter (1999-2001)
District Director – UAP District A3 (2004-2005)
President – Rotary Club of Metro Sta. Mesa (2004 – 2005)
Grand Knight – Knights of Columbus Council 6632 (2005-2007)
Member of Brotherhood of Professionals and Businessmen, Brethren Lords Flock
President – Partid

o State University Alumni Assoc. (2006-2008)
President – National University Architecture Alumni Association (2016-Present)
Board Member – Partido State University Board of Regents
Holder of Certificate of International Practitioner on Project Management awarded in Tokyo, Japan in March 2015.
Holder of Construction

Competency Registry No. AMO-0-13-0500 from Construction Industry Authority of the Philippines.
After my graduation from High School at Partido State University in Goa, Camarines Sur, my aunt who was a physician sent me to Manila to pursue my college education. She wanted me to take-up medicine. My father who was a seaman wanted me to take-up Nautical Science. But my personal choice was either Architecture or Fine Arts. I was a little bit confused that time of what course to take. That was on a summer break when I arrived in Manila. I happened to pass by M.F. Jhocson St. in Sampaloc and saw an announcement at the gate of National University (NU) regarding summer classes offered for that 1976 summer. I inquired about BS Architecture course and find myself enrolling for summer classes. The rest was history.
It was a great experience studying at NU School of Architecture and Arts. I enjoyed and met a lot of friends and some were foreign students. It inspired me when I learned that the graduates of National University specially for BS Civil Engineering and BS Architecture were Top 10 Board Placers. It inspired me even more when I met a lot of good professors. Like Mr. Mario Capule, who was so strict that you have to strive hard or study well to pass his subject. He is used to posting the results of Periodic Written Examination he gave in the History of Architecture subject. I enjoyed being in top place always and I studied more to maintain in that position. All the other professors that time were excellent, like Arch. Felix Baking, Mr. Urbano Romero, Mr. Del Rosario and of course the Dean Arch. Fernando Abad.
I graduated in 1980 and took the Licensure Examination for Architecture in 1981 which luckily I passed.
I am so proud to be an Alumnus of National University. The experiences during my study period were so enriching for my personal development in respect of the knowledge I gathered during the Courses, and applying for job was never a problem for me.
At present I am managing my own Design and Construction firm — Consnet Builders, Inc., servicing Corporate giants like Globe Telecom, McDonalds and Robinsons Land Corporation. We have already accomplished a lot of projects for these Corporate Clients.
I organized the National University Architecture Alumni Association, Inc. in 2016 and presently the President. My team will be busy reaching out to all the Alumni of NU College of Architecture.
I also served in other Civic and Religious Organization like Knights of  Columbus, Rotary Club, Partido State University Board of Regents. A Fellow of the United Architects of the Philippines. Last 2011, I was a recipient of the NU Distinguished Alumnus in the field of Architecture.
Go Bulldogs!
-Arch. Bibiano A. Luzande, Jr.