National U studes impress in 2017 Shell Eco – Marathon Philippines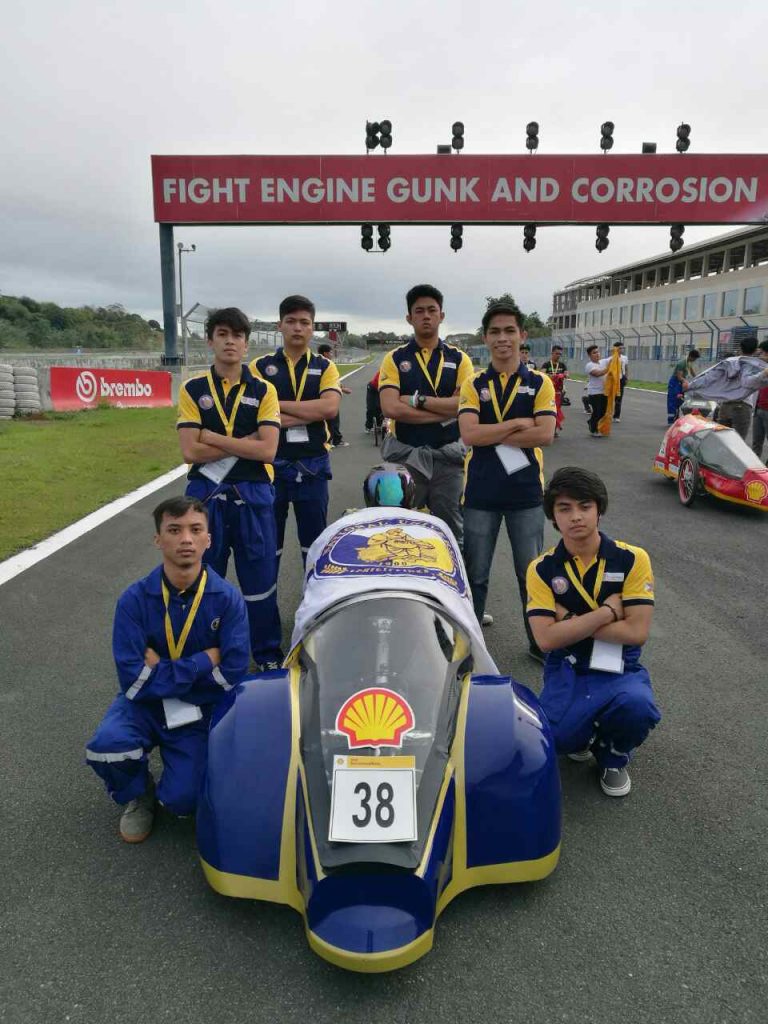 National University Mechanical Engineering students exceeded expectations in the 2017 Shell Eco-Marathon Philippines held last February 2-5 at the Clark International Speedway in Mabalacat, Pampanga.
Students from different schools competed in four categories; Prototype (ICE-Internal Combustion Engine & Battery Electric) and Urban Concept (ICE-Internal Combustion Engine & Battery Electric).
The NU studes joined the Prototype – ICE (gasoline) category where they battled against other universities such as Mapua Institute of Technology, Ateneo de Davao University, Pamantasan ng Lungsod ng Maynila, University of the East, University of Mindanao, University of San Carlos and University of Sto. Tomas. Though they did not place in the top three, National U is one of only five universities which prototype was able to get a valid run. A valid run, which is completed in five laps, is only awarded to those who passed the technical and safety inspections.
"This is very important for the students. The reason is, number one, this competition is really very tough, because the students get to design everything, from chassis-type, to the engine, up to the exterior qualities. Second, it is also a show of their mechanical engineering skills where they get to showcase their knowledge and skills not only inside the classroom but also in a national competition (like this one)." College of Engineering Dean Alexa Ray said.
Dean Fernando also said the team, which was coached by NU professor, Engineer Datu Amil Hussien Asakil, overachieved on its third year of joining the competition.
"When I asked Engr. Amil Asakil to head the team, he really looked into it…what needs to be improved, replaced and done. The students' skills improved a lot also, because the previous (graduating) members of the team helped and trained the new members of this team." Dean Fernando stated.
Because of this huge improvement, they are hoping that they can join the Shell Eco-Marathon 2018 which will be held in Singapore. The team started their fund-raising activities to finance their plan to join next year's competition where they will also aim to compete in the Urban category.
Here is the complete list of the NU team members and their designation:
Team Adviser: Engr. Datu Amil Hussien O. Asakil
Team Manager : Nicole Jon Viernes
Primary Driver : Daryl N. Valdez
Secondary Driver : Kent Yves M. Villamayor
Chief Mechanic : Meryvin O. Viado
Fabrication Officer: Fuller Mark A. Javier
Assistant Fabrication officer :John Darcy C. Badialan
Chief Electrician : Andrew B. Aquino
Communication Officer : Edna Mae Bantola
Technical Documentation Officer : Kristine S. Conde
Quality Control Officer :John Matthew V. Hufana
Assistant Quality Control Officer :Mark Philippe A. Manaog
Parts Analyst : Mark Anthony Pujeda
Safety Officer : Ryan Joshua Abcede
Hygiene Officer : Karl Jerome A. Perez
Media Officer: James Roniel Gella
Media Publisher : Janzene Paul E. Gonzalez
Supporting Members:
1. Dexter Pampuan
2.Lance Roy Estrella
3. Karl Daluz
4. Jeorge Albert Pahati
5. Nico Angelo Sarmiento
6. Russel Mon Realubit
7. Kelvin Pano
8. Joshua Martin Mallari
9. Ralph Martin Robles