National U IT students win big in Global Youth Summit 2017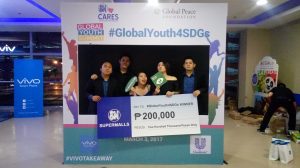 The National University Information Technology students once again brought pride to the school after bagging one of the top prizes in the recently concluded Global Youth Summit 2017(GYS 2017) held at the Mall of Asia Arena last March 3, 2017.
Team No Sleep composed of 3rd year IT students Margarette Toledo, Johannah Sarvida, Daniel Carl Mitamura and Bill Kevin Patilen, are the brains behind SakunAPP, which was chosen as the best entry in the Climate Action category.
The SakunAPP is an android based mobile app that monitors the safety status of the members of the community and provides guidelines on what to do during certain disasters.
The NU IT studes were declared champions during the GYS 2017 gathering where they received P200,000 pesos as cash prize.
The Climate Action category is one of the five categories in the competition, but National U is the only winner from the National Capital Region.
According to College of Computer Studies Dean Robby Manuel, the SakunAPP is the students' project in one of their professional subjects and is a collaborative effort of the students and CCS professors.
"They (students) enhanced the documentation to suit what was required in the event. The team was guided by the advisers so the project can fit the category's theme."
Dean Manuel also boasted about the research agenda of the college which he believes has improved in just a span of three years.
Dean Robby also said that this is another 'feather in the cap' for the university and this definitely boosted the Center of Excellence recognition which was given to the Information Technology Education of the College of Computer Studies last year.
"We rehashed the research environment in the university, we redefined the research projects of the students and we found out that these (projects) can be transformed to a researchable one that can be presented in different venues." Manuel said.
The Global Youth Summit is a celebration of youth leadership that aims to engage and inspire the world's future experts, where young people can share their ideas and utilize their diverse skill-sets and knowledge.