National U holds May 2019 Commencement Rites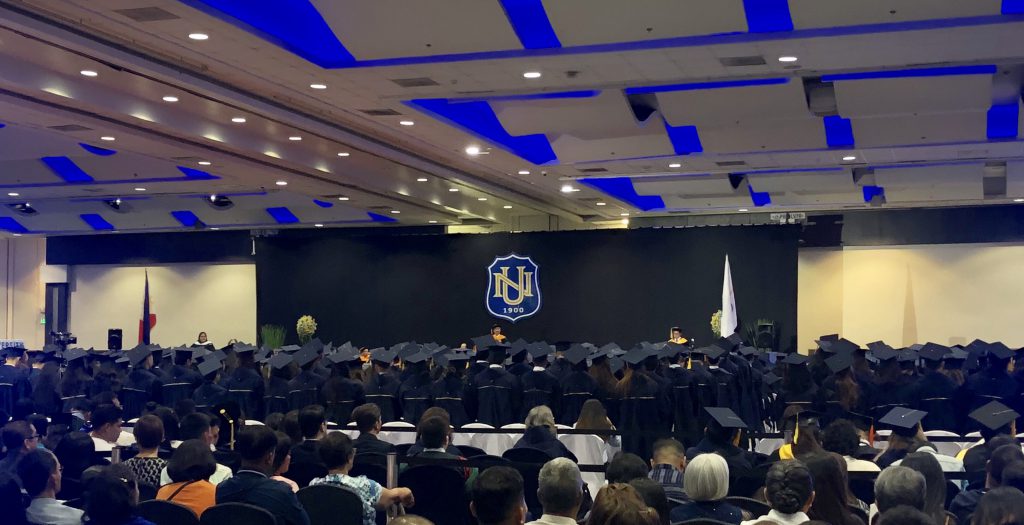 National University successfully held the 2019 Commencement Exercises at the SMX Convention Center in Pasay City last May 27, 2019.
National U president Dr. Renato Carlos Ermita Jr. and Chairman of the Board Mr. Hans Sy led the presentation of the diplomas to the 1,160 graduates of batch 2019. Invited as guest speaker is the Board of Directors for SM Investments Chairman, Mr. Jose T. Sio.
Summa Cum Laude and 'The National' (NU's official newspaper) writer Ma. Jhoeleanne Adriano who graduated with the degree in Elementary Education, delivered the valedictory speech where she thanked the people behind her success and recalled her unforgettable experiences in college.
Meanwhile, 'The National' editor-in-chief and Summa Cum Laude Cristopherson Perez was awarded the Don Mariano Jhocson Memorial award, the highest individual award given to a National U student who displayed exemplary performance both in academics and extra-curricular activities.
After the graduation rites, National U hosted the institutional dinner for NU employees and faculty members. Certificates and incentives were given to outstanding faculty members in academic year 2018-2019.
Mr. Sy, in his inspirational message commended the employees and faculty who according to him are the unsung heroes of the university. He also announced the expansion program where they plan to put up at least two NU branches per year in different parts of the country.
"It is not about making money, but it is about making a difference in the lives of the students. This is just the beginning, I need your help, I need your support and we will make National University, truly a national school."