From Rock Bottom to the Top: An aspiring CPA's journey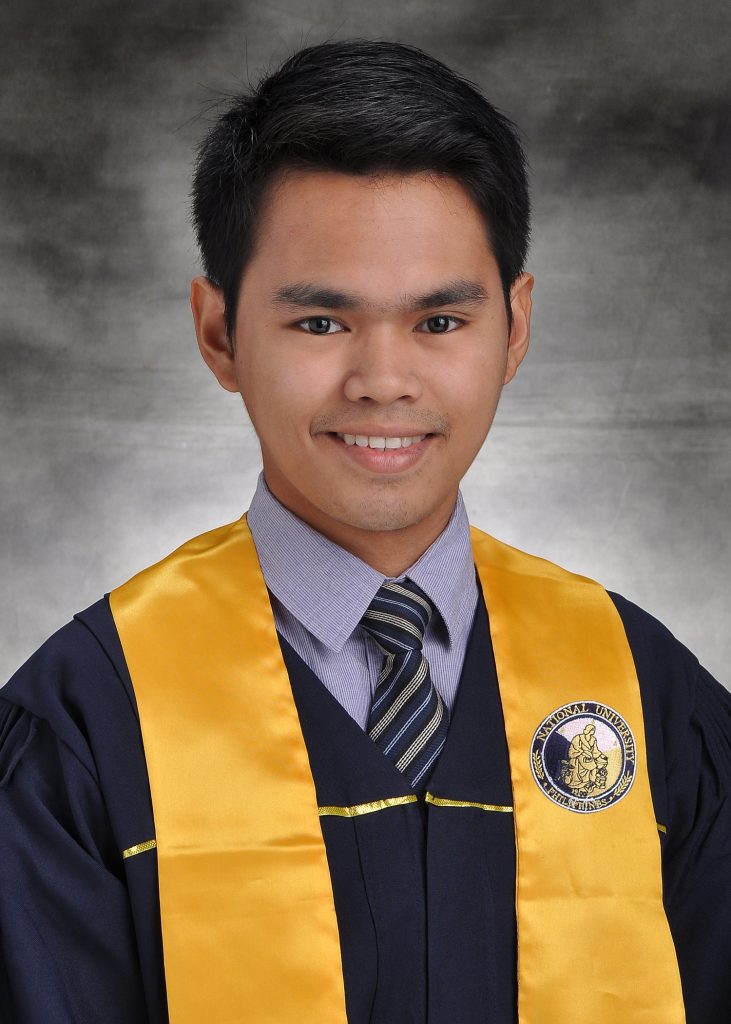 Being poor should not be an excuse to aim high and achieve your dreams –this is what the 22-year old Davao del Norte-native Aljon Laborte inculcated in his mind when he first stepped inside National University in 2010.
Aljon, the second eldest son of Mr. Teresito and Mrs. Jocelyn Laborte had to endure many trials before he was able to reach college.
June 2008, when they found out that his father was one of the casualties in the MV Princess of the Stars tragedy, the sea vessel that capsized in Romblon at the height of Typhoon Frank. He was in third year high school when the unfortunate incident happened. Since their father was the one handling their small fruit business, his untimely death left them with no other resources.
His eldest brother had to stop studying and had to work to their family. His mother worked as a hairdresser in a salon near their house in Novaliches.
Because of the uncertain financial income and high tuition fees in the colleges around the metro, Laborte was uncertain if he could pursue his dream of studying in college. But being the dreamer he was, he applied for a scholarship in SM Foundation, the only one he tried.
"Kung di ako pumasa, wala na talaga." Laborte recalled.
Blessed, after a series of screening, tests and interviews, Laborte passed and was granted a full scholarship in National University where he took Bachelor of Science in Accountancy. He was also given a monthly allowance of two thousand pesos (P2,000).
But challenges didn't stop there. Since he only had a measly two thousand pesos as his allowance, he needed to budget that for one whole month. Laborte shared that there were days he would skip school because he had nothing in his pocket.
"Baka makapunta lang ako sa NU, tapos di na ako makauwi. Kaya may mga times na nag-i-skip ako ng meal, para lang mapagkasya ang budget." Laborte said.
He used his time at home to read, review and do self-study.
According to one of his professors in NU, Prof. Noli Valera, there were times Laborte would miss his quizzes but the diligent student still performed well in school.
"He was good, very good, okay sya. Hanggang nung sa review center, masipag syang mag-aral."
True enough, if you work hard, you'll earn the fruits of your labor.
After five effortful years in National U, Laborte graduated as Cum Laude. He also received the Don Mariano Fortunato Jhocson Memorial Award; an award given to only one graduating Nationalian who best exemplified the five core values of the university.
After graduation, SGV & Co. offered to finance his review for the CPA board exam which he openly accepted.
He had to stop his part-time job to focus on his review. As Laborte would recall it, "the offer was a blessing" since he didn't know how he'd start his preparation for the boards.
After several months of arduous tests and preparation, he took the October 2015 CPA board exam which he eventually passed. Laborte admitted that he was a bit emotional but very happy after hearing the good news.
"Very fulfilling po after ko malaman na i passed. Kasi after all the hardships, kumbaga na-achieve ko yung gusto kong ma-achieve…My family was my inspiration, kasi kung di naman dahil sa kanila, di ako mamo-motivate na mag-aral." Laborte stated.
Now, Laborte is working in the country's biggest accounting firm, the Sycip Gorres Velayo & Co., as an Associate II under Assurance Services, handling Semiconductor, Trading and Construction Industries.
For Aljon, it is not only his hardwork that pushed him to the top, but also the university's help and guidance.
"I'd like to thank NU kasi since first year, 'til nagre-review ako, kami, all out sa support sa amin…NU is a very promising school and if you're there, it's like a family, you can expect support, especially if it's about achieving your dreams."
He also has some advice to students who are struggling just to study in college.
"Just be practical and learn to maximize your available resources. Be a wise spender; determine what is essential and what's not. Lastly, never give up, just hold on to your dreams, because at the end of the day, it is you who determines your fate." Laborte ended.
Dreams, no matter how impossible, should never be underestimated.
Bad experiences should also inspire us and not destroy us. And with the help of those people around us and our Almighty God, surely just like how Aljon did it, one can rise, from rock bottom to the top.