Engr. Danilo Tamayo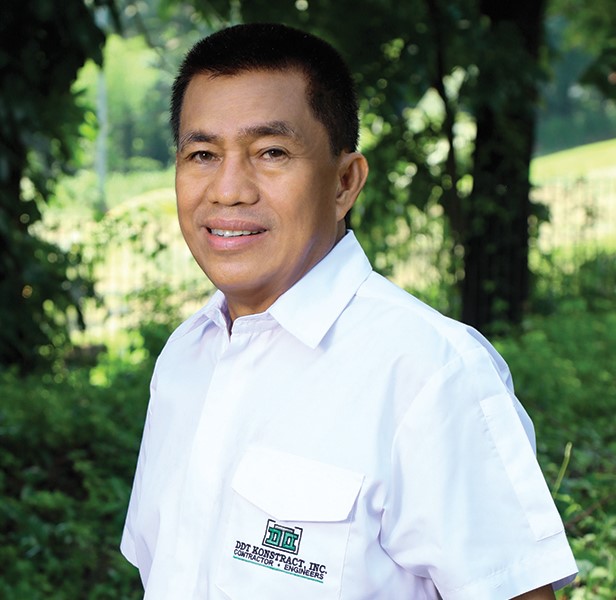 Being underprivileged should never be an excuse to achieve your dream. This mindset pushed Engr. Danilo Tamayo to attain his almost impossible goal of building a construction empire.
A native of Buguey, Cagayan, Engr. Tamayo travelled all the way from the northern part of Luzon to enroll in National U.
"Gusto ng tatay ko, tumigil na ako, magsaka na lang ako sa bukid. Pero ayoko, ang ginawa ko, ibinenta ko ang mga natitira naming binhi at wala silang alam, lumuwas ako ng Maynila, at dito sa NU tinanggap na ako."
His father wanted him to take up a degree in education then but Engr. Tamayo had other plans.
"Pumunta ako ng Manila just to study in NU. I took up Civil Engineering. Yung mga professor namin dati sina Mr. Segui, Mr. Salumbides, Mr. Lara at iba pa, mga practicing professionals. Kaya kahit magulo nun ang fraternities, hindi ako umalis, kasi bakit ako aalis ng NU eh ang gagaling ng professors."
Engr. Tamayo entered National U as a scholar after finishing with the highest honors in high school. But soon after entering his sophomore year, he almost stopped studying when he failed one of his subjects.
"Wala kaming Chemistry subject nung high school, so blangko ako at bumagsak ako, nawala yung scholarship ko. Far-flung place kasi kami kaya yung curriculum namin, hindi kasama yun."
He also admitted that he had a hard time continuing his studies not only because of the wild fraternity situation in the university but also because his father who was at that time a small farmer in his hometown could not support all the education expenses.
"Nag-join ako ng fraternity kasi ang purpose ko nun ay para meron akong mahiraman at mautangan. Kasi yung tatay ko hindi kami kaya (pag-aralin), kaya lahat sila sa frat nahiraman ko."
Despite the hardships, he pulled strength from the love of his life, his beau back in college and now his wife and business partner Engr. Cynthia Tamayo who also studied in NU finishing BS Civil Engineering. With his perseverance and resourcefulness, Engr. Tamayo graduated in 1978.
After graduation, Engr. Tamayo became part of several construction firms and rose from the ranks as foreman to project engineer and eventually a vice president. Unfortunately for him in 1997, during the Asian Financial Crisis, the company he was working for folded up and he became jobless. Armed with knowledge he acquired from National U and his previous jobs, he and his wife took a leap of faith and used their P50,000 savings to establish DDT Konstract Inc., a labor-subcontracting firm that soon became popular for quality work on small residential and commercial projects.
It was not an easy path but their resilience made them reach the top. For more than 20 years now, DDTKI has become known as one of the country's biggest companies in the construction industry working with some of the country's largest real estate companies such as SM Group, Ayala Land, Filinvest Land and Robinson Land to name a few.
While DDTKI is known in the construction industry, it has also set up a foundation and now has around 600 full scholars who are all studying in college.
"We know how it feels to be hungry, we know how it (feels) not to take the exam dahil walang pambayad sa tuition. We also know the feeling of a parent na hindi nya kayang maipadala ang anak nya sa school. Yung foundation, yun ang purpose nun, kasi may mga batang deserving na hindi makapasok. So, I said, this is going to be our core purpose."
After establishing himself in the construction industry, Engr. Tamayo admits that he owes a lot of his success to National U so he wants to keep inspiring the young generation. At present, Engr. Danilo Tamayo still sits as the chairman of DDTKI and works with his wife who is also one of the pillars of the company. Engr. Tamayo vows to remain hands-on in his business empire while continuing his aspiration of helping students in need.
Article written by: AARomero (interview excerpts for Heritage II)