Notable Alumni attends NU Lipa's Inauguration and Blessing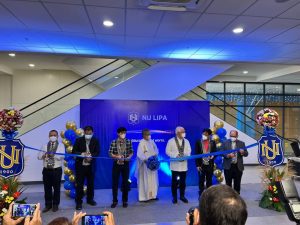 One of the newest branches of National University (NU), NU Lipa, celebrated its inauguration and blessing yesterday.
Cutting of the ribbon and unveiling of the marker was led by NU President and CEO, Dr. Renato Carlos H. Ermita Jr., and NU Lipa's Executive Director, Mr. Avelino Palupit, together with Batangas Province Governor, Mr. Hermilando Dodo T. Mandanas, Lipa City Mayor, Mr. Eric B. Africa, and CHED Region IV-A OIC Director, Mr. Freddie B. Bulauan.
In his short inspirational message, Governor Mandanas acknowledged NU's success in establishing campuses in various parts of the country. As part of NU's 10-year expansion plan, NU Lipa is the sixth campus to open timely for the academic year 2022-2023—to be followed by NU Clark in Pampanga already on its way to launching mid-2023.
Guests from other NU campuses and notable Alumni, Engineer Bernardo G. Hornilla, Dr. Aleli C. Nitoral, and Dr. Catherine B. Gonzales, joined the event. The Heritage Wall, that showcases the NU history, was also unveiled. The NU chorale and the NU Bulldog mascot crooned and enlivened the crowd during the celebration.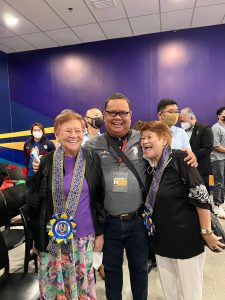 In the Photo: Our Notable Alumnus from Batangas, Engineer Bernardo C. Hornilla, together with his former Dean Ma'am Carla Falconit and former Head of Registrar Ma'am Arlene Royo.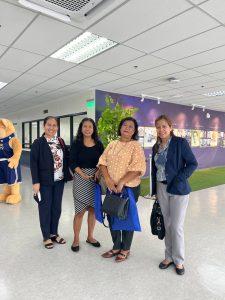 In the Photo: (left to right) Dr. Lilibeth Diaz, Coordinator of NU Athletics and Academics Development Office , and our Notable Alumni Dr. Catherine V. Gonzales, Principal II of Primitivo Kalaw Senior High School together with Dr. Aleli C. Nitoral, Principal II of Pangao Integrated School, and Ms. Ronnet B. Altuna, the Assistant Director of NU Alumni Affairs Office.