Nationalian Pride Violeta Dela-Fuente Lapid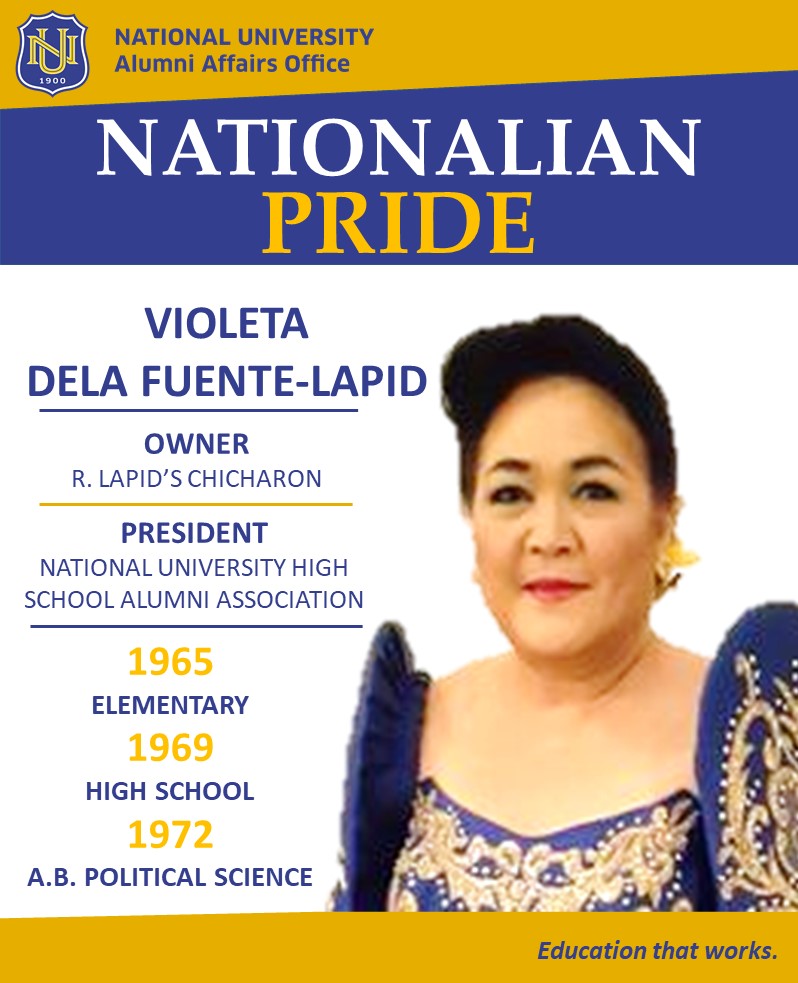 Nationalian Pride Violeta Dela Fuente-Lapid
President of National High School Alumni Association

A.B. Political Science Batch 1972

Owner of R. Lapid's Chicharon
Violeta D. Lapid is a homegrown nationalian, she spent her elementary to college days at the National University. She graduated with a degree in Political Science but chose to pursue a business career.
Ma'am Violy owns the R. Lapid's Chicharon and is currently the National University High School Alumni Association President.
In 1974, she and her husband, Rey Lapid, built a stall in Hidalgo, Quiapo. To keep their business supported, she had to keep her day job in a private company. Just like other businesses, there were gloomy days, nevertheless, they were able to manage it.
Now, the R. Lapid's Chicharon is celebrating its 47th year in the industry. From a stall in Hidalgo, they expanded their business to different parts of Luzon and extended their products to more than just a chicharon. They have been featured in television-magazine shows and received numerous awards for quality and service.
Until now Mrs. Lapid still remembers all the culture and traditions of National University. She often reminisces the laughter and memories when she was a student. "Working smart is one of the things that I learned in NU, and understanding that failure is part of the process of success", she said. 
When asked about her advice to Nationalians, she said "do not fear failure, work smarter and do better. Success does not happen overnight." She also added that being comfortable with your own pace lets you maximize your resources and work efficiently. 
"Read, watch and have a healthy interactions with your family, friends, and colleagues."—Violeta Lapid.
As a full-blooded Nationalian, she continues the University's mission and vision and upholds its core values in social responsibilities.